A balmy 76-degree morning in Scottsdale seems like the perfect day for a baseball game, especially if you're at Dan Haren Field, where the Miracle League of Arizona holds its games.
But there is never a bad day here, according to program assistant Reggie Oats. "It has all of the up sides of sports, and none of the down."
The park is named after Dan Haren Sr. and his son Danny Haren, a former pitcher for the Arizona Diamondbacks who retired in 2015. The father-son duo first presented their idea to the Diamondbacks in 2008: Create a baseball stadium specifically designed for children, teens and adults with disabilities or special health care needs.
The Miracle League of Arizona was formed, and with the help of sponsors—including a $380,000 grant from the Arizona Diamondbacks and a land donation from the Scottsdale Unified School District—Dan Haren Field hosted its grand opening in March of 2011.
The Miracle League players
Seven-year-old Zach Zurliene of Gilbert is a returning Miracle League player. On opening day for the spring season, he could hardly contain his enthusiasm. He said he was "excited to be running the bases" in his wheelchair.
Zach revels in his role leading the team in a spirited rendition of "Take Me Out to the Ballgame." He does such a good job of it that he has been invited to lead an even bigger crowd for the spring training Cubs Game at Sloan Stadium on March 27 (Easter Sunday).
Zach's favorite moment, however, is when "the other Zach" arrives. His best buddy from Miracle League of Arizona is 8-year-old Zach Bacon. The two boys played on the same team last year and look forward to playing together again (as the "Zach Attacks") when Zach Zurliene moves up to the older division next year. Seeing them together, it's quite clear they share the special bond only teammates possess.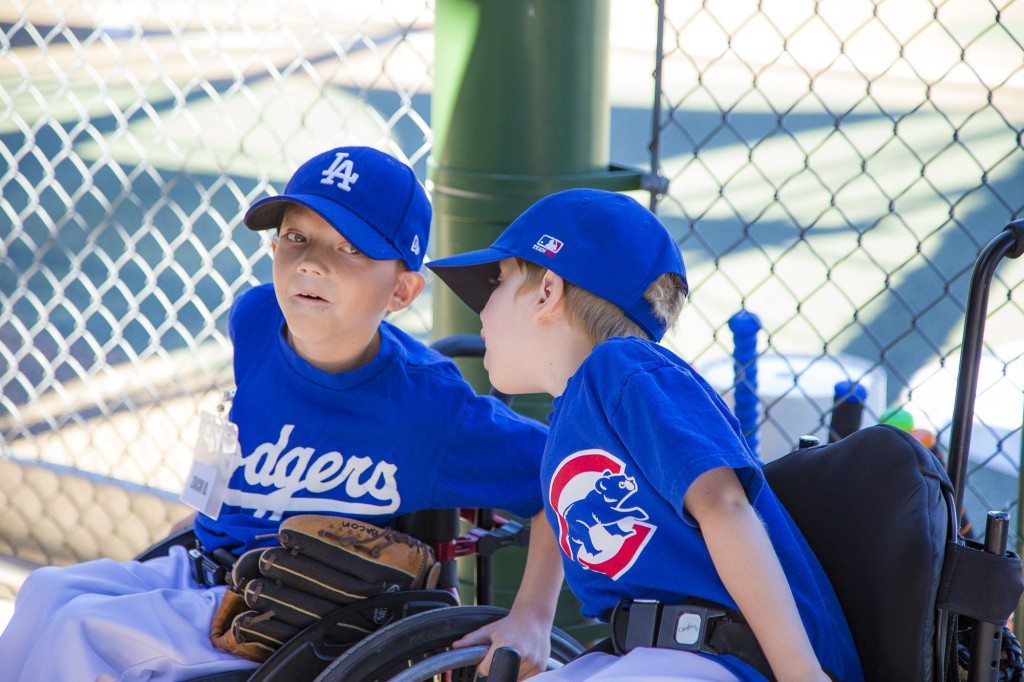 Volunteers make the difference
Tony Bell—a board member for Miracle League of Arizona, lovingly referred to as "Coach Tony"—has been volunteering with Miracle League of Arizona for the past four years. Bell started as one of the "buddies" (volunteers assigned to individual athletes to help them with everything from batting to navigating the bases) and was moved up to coach and board member.
Buddies are a very important part of the Miracle League of Arizona. Every athlete gets an assigned buddy, and watching players and buddies work together is one of the most moving aspects of the game
But there are so many great moments when watching these kids play, it would be hard to rank them.
"It's called the 'miracle league' for a reason," Bell says. He describes players getting up out of their wheelchairs and walking to home plate. "About once a year, sometimes more, it happens, and the place erupts," he says.
Volunteers like Bell are critical to making the Miracle League of Arizona come together. They coach the teams, run the concession stands, announce the games and serve as "buddies" for the athletes.
Unlike other sports teams, volunteers are not the parents of participating athletes. They come from local high schools, church groups, sports teams, Boys and Girls Clubs and other charitable organizations.
It's done this way so that the athlete's parents get a break—and get the chance to sit back and enjoy the game.
Scottsdale mom Karen Mongan volunteers regularly at Miracle League of Arizona with her two daughters, Jeannie, 18, and Maddie, 16, who both attend Nortre Dame Preparatory High School. They belong to the National Charity League, a mother-daughter philanthropic organization.
Morgan says its the atmosphere at the park that draws them back: "It's so upbeat, and you get to see the smiles on these kids' faces."
Watching a game, it's hard to tell who has more fun: the athletes, the volunteers or the parents who get the chance to watch their kids having fun playing sports—something that otherwise might not ever have happened.
But it really doesn't matter, because in the Miracle League, everybody wins.
To learn more about the Miracle League of Arizona, and for information about volunteer opportunities, visit mlaz.org.