The Sharks and the Jets, gang rivalry and young love set in the gritty streets of New York's Upper West Side come together in the enduring musical "West Side Story." The show — a modern-day retelling of Shakespeare's "Romeo and Juliet" — runs through Saturday, Aug. 20 at Hale Centre Theatre in Gilbert.
Taking place in the mid-1950s, the musical unravels the tale of Tony and Maria, who fall in love despite everyone's objections. Even as their rival gangs battle each other for turf, the pair fight for  survival of each other and their love.
With book by Arthur Laurents, music by Leonard Bernstein and lyrics by Stephen Sondheim,"West Side Story" includes the classic songs "Maria," "Tonight" and "Somewhere." The original Broadway production opened in 1957 and won two Tony Awards. The subsequent 1961 movie starring Natalie Wood garnered 10 Academy Awards, the most ever for a musical film.
Hale's version is directed and choreographed by AriZoni Award-winning Cambrian James and musically directed by fellow AriZoni Award winner Lincoln Wright. James has won multiple awards for directing and choreographing and has worked on such shows as "The Wizard of Oz," "Footloose," "Forever Plaid" and "My Fair Lady." Also an actor, he has appeared as Daddy Warbucks in "Annie," Edna Turnblad in "Hairspray" and the king in "The King and I," to name a few.
Wright, who considers "West Side Story" to be the "great American musical," has been music director for numerous Hale shows, including "My Fair Lady" (AriZoni Award), "A Christmas Carol," "Mary Poppins," "Tarzan" and "Hairspray."
"'West Side Story' deals with themes of racism and bigotry — themes you'd think would no longer still be relevant in 2016," says James. "But unfortunately, we are still dealing with these same bigotries."
Hale has "assembled an incredibly talented cast of young performers who tackle this serious subject matter brilliantly," he adds.
James notes that he and the whole cast "were dedicated to telling this story from the start with great passion and conviction," but that the story really hit home with recent shooting incidents in Orlando, St. Paul, Baton Rouge and Dallas.
Young actors Jessie Jo Pauley, who stars as Maria (a Shark) and Drake Sherman, who stars as Tony (a Jet), top an award-winning cast of local talent.
Pauley has appeared frequently in Valley productions, including as the Ghost of Christmas Past in "A Christmas Carol" and as Dorothy in "The Wizard of Oz" at the Hale. She also played Ariel in "Footloose" and Morticia in "The Addams Family" for Actor's Youth Theatre, and received an AriZoni Award for Best Actress for the latter.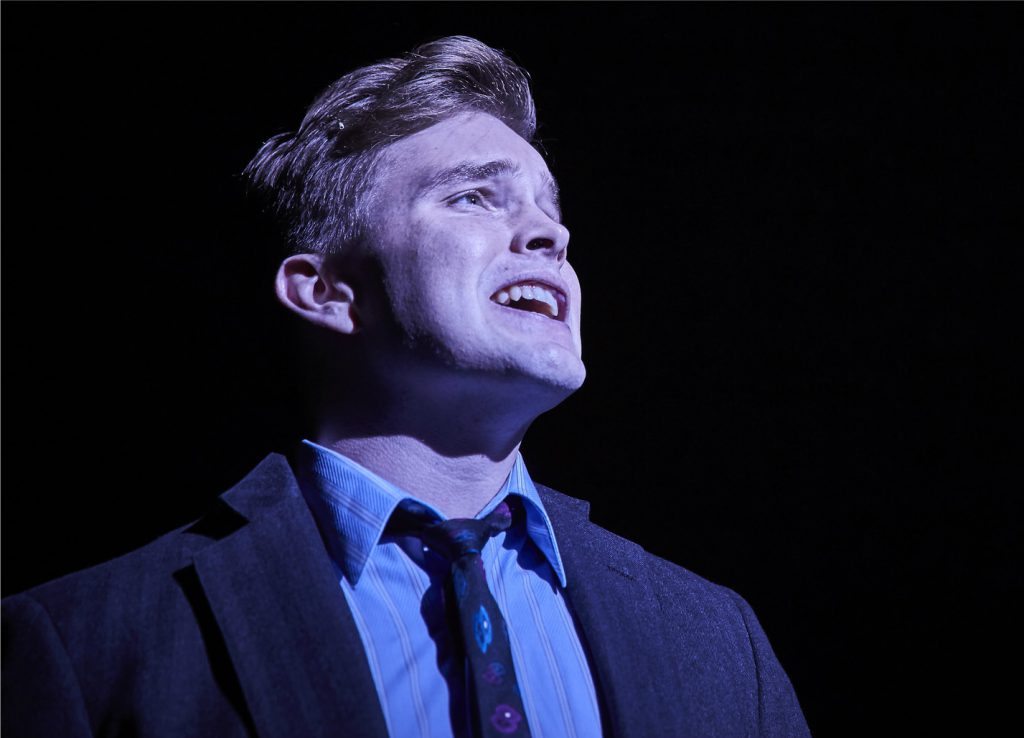 Making his Hale debut, Sherman is a 20-year-old junior at Arizona State University, where he studies vocal performance. His credits at ASU include Robert Martin in "The Drowsy Chaperone" and Paul in "Company."
"We all want to present the best, most entertaining production of 'West Side Story' that we can," says James. "If we can change just one person's heart to be a little less bigoted, then that is just a sweet added bonus to all our hard work."
Hale gives "West Side Story" a PG-13 rating; some material may be inappropriate for children under 13.
If you go: July 7–Aug. 20. 7 p.m. Wednesdays-Thursdays, 7:30 p.m. Fridays, 3 and 7:30 p.m. Saturdays. Hale Centre Theatre, 50 W. Page Ave., Gilbert. $18-28. 480-497-1181 or haletheatrearizona.com.