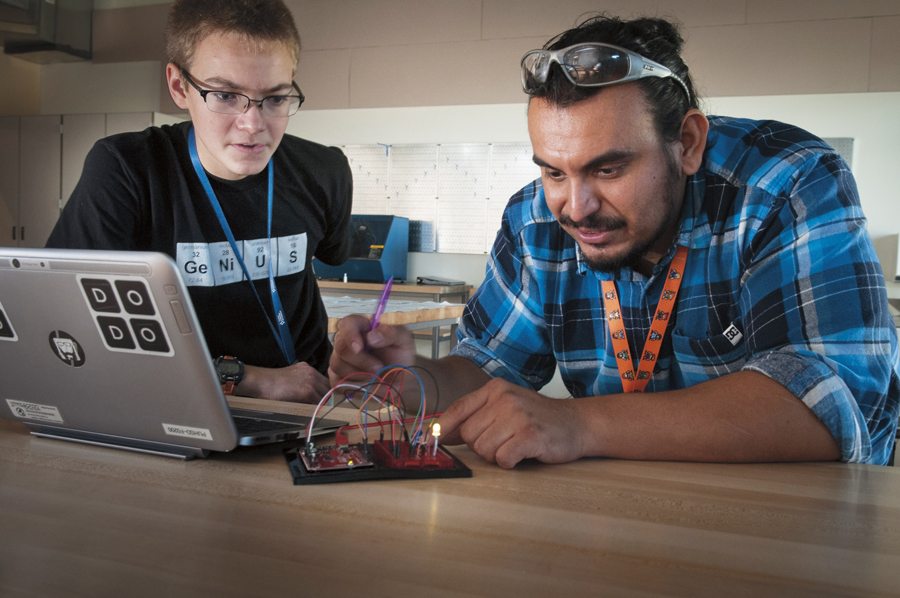 Imagine commuting three hours round-trip to high school and being grateful. That's how Harrison Kerkhoff of Wittmann feels about Phoenix Coding Academy.
Harrison, 14,  joined nearly 100 other students at the school, which first opened its doors on Central Avenue north of Indian School Road in August. It's the first Arizona high school to build its entire curriculum around computer coding.
Wearing a shirt that spells out "Genius," Harrison, who was home-schooled, says he likes that so many students share the same interests: "You know everyone wants to (explore) the technology."
Principal Seth Beute says the idea for the Coding Academy came from asking how a new high school could be more relevant, combined with an awareness of studies showing the tech industry is poorly represented by minorities and women.
"Our district was looking at a way to invest and expand the different areas that provided unique opportunities for the students," Beute says. "We are about 90 percent free- and reduced-lunch (recipients in the Phoenix Union High School District), about 81 percent Hispanic. With Phoenix being a real hot spot for the tech industry, it all came together. It was determined that we'd open a school focused on computer science as an essential skill all students learn, and that's where it started in 2014."
Right now, the ninth-grade class is one-third female, with a goal to make it a 50-50 split in future years. With his background, Beute was the perfect candidate to put in charge.
"I'd just finished working 10 years at Metro Tech" high school, he says. "I was hired to expand online education in the district, and then I was invited to be on the (Coding Academy) planning team."
Fast forward to the classrooms during the first week of school and the 98 students — most of whom didn't know each other — excited and eager to learn everything about computer programming.
Harrison found out about the school during an open house, which wasn't just a tour but a hands-on evening of working on the computers. Harrison and his parents saw the possibilities right away and felt it was the perfect next step after years of home schooling.
"That was another main thing: to understand the classroom environment, so I'll be ready for college, so it's not a big change for me," he says.
At first, Harrison acknowledges, it was a little difficult jumping into a whole new environment where he didn't know anyone. But Harrison says it's good, and he enjoys the interesting teens he has met.
The newly built school features pristine classrooms, complete with desktop computers in some rooms and two 3-D printers, plus three more on order this year. Each student is assigned a laptop and learns from curriculum centered on software development, including web, game and app design.
When it comes to academics, the basics are covered. The way they're integrated with computer sciences differentiates Phoenix Coding Academy from traditional high schools.
Beute uses a "music investigation" project as an example, explaining how a math teacher would teach the basics through such applications as spreadsheets for the music industry, and a Spanish teacher would include music from Spanish-speaking cultures.
For science, he says, "we're doing a physics and scientific-inquiry course, so connecting the idea of sound waves and motion and all that with the physics part of it. (For) English, we'll look at connecting literature and music together. We try to find fun and interesting ways to include technology in all courses. Students are already building their own web pages to host their work and project results."
Jackie Loza of Glendale, who's also 14, says the tech focus attracts kids who are driven.
"I think all the students are very dedicated, and they know what they want to do," Jackie says. "It creates a special atmosphere for the school that a lot of other schools don't have. You won't really find anyone messing around, you know, and not doing what they should be doing. I think the teachers are very one-on-one, and they do get to specialize to your personality, which is good. They're very flexible."
It does take a bit of work to get into the Phoenix Coding Academy, which has a involved application process.
"We take the full range when it comes to academics. It's not an honors-only school." Beute says.
"We look at the essay, we interview every student that applies, we look at feedback from other adults that know the students, and we look at the grades," he says, adding they especially note how much the student wants to be there.
Joseph De LaCruz chose Phoenix Coding Academy over Carl Hayden Community High School, which has a renowned robotics team and where all his older brothers and sisters had gone.
"Even before high-school night, my brother said, 'You should just go to Carl Hayden.' But my dad said, 'You choose whatever high school you want to go to.'
"I thought that was really cool, but the only bad part was … after he dropped me off the first day, he was like, 'OK, you have to take the bus from now on.' I was like, this high school's worth it! Sometimes it's really like you are a number (at traditional schools). They don't' really see you as an individual, they see you as an entire group, and here it's not like that."
Beute says as many as 25 companies already have signed on to provide learning opportunities and internships for Phoenix Coding Academy students. He's also looking forward to drawing from the community's tech experts to participate in the school's version of Ted Talks meant to inspire students interested in the tech industry. Already on the schedule is Jaime Casap, Google's global education evangelist and Arizona State University grad, who speaks to the power of the web and technology.
"The students will have all the required academics for graduation, but what we're looking at is having students prepared and eligible to apply at colleges anywhere in the country," Beute says. "Our focus with the electives will be on computer science, so rather than having a full range of electives as on a comprehensive campus — which can go from choir to band, workshop, that type of thing — our electives will be focused on coding and computer science. In the second year, they're going to choose a specific pathway. … We're going to offer software development, web development, engineering focused on robotics and also networking. Those are some high-demand fields."
If you are wondering about the dances and sports, those are on the agenda as well, along with clubs. The robotics club already is shaping up to be a popular one. But the principal says it will be the students who create those extras, depending upon their interests. The school hopes to grow each year until it reaches its 400-student capacity.
It's not often a high-school student knows what he or she wants to be when they grow up, but some of the Coding Academy students already are pondering the future.
Joseph's dreaming about working at NASA one day, and Jackie, who shows her creative side already with knee-high socks festooned with bows, says," I've always wanted to work at Google and be a software programmer." For Harrison, it's aeronautics, aerospace or perhaps becoming an inventor.
Whatever they choose, these teens are off to a good start. Beute says when Phoenix Coding Academy was being formed, the question for teachers and administrators was how a high school could be more relevant to today's students.
The answer, he says, was simple: "You combine traditional academics with technology and bring it together with hands-on learning. It's best practice across the board."
Phoenix Union's "small specialty" high schools
Phoenix Union High School District is one of the largest high-school districts in the country, with 17 schools, more than 27,000 students and nearly 3,000 employees. The district has three "Small Specialty" schools that focus on one area and offer students a more personalized path to find their success.
Bioscience High School. Offers an emphasis on science, technology, engineering and mathematics. Juniors and seniors choose pathway courses toward biomedical or engineering. The school offers such connections as internships with the biotech and higher-education communities.  It's one of the state's highest-performing schools ­— most years, 100 percent of Bioscience  graduates move on to colleges and universities.
Franklin Police and Fire. Designed to provide students with a head start into a career in public safety, focusing on law enforcement or firefighting. The school has received high marks for its academics as well, having earned an "A" ranking every year since letter grades were initiated. In 2015, it was named a National Blue Ribbon school by the U.S. Department of Education.
Phoenix Coding Academy. Software development, including game design, web and app development, networking, information security, engineering and automation. Technology is integrated into a full high-school curriculum, and students select career pathways. It partners with the local tech industry.