Jill Partridge has one child: Max. So when it came time to enroll him in school, she wanted to do it right. She toured seven campuses, met teachers, talked to parents and paid particular attention to activities that would inspire him.
Partridge, of Phoenix, ended up choosing Mercury Mine Elementary in the Paradise Valley Unified School District. It wasn't his assigned district, so she juggled work schedules and recruited family members and babysitters to transport Max back and forth.
Max flourished. There was the kindergarten rain-forest program, first-grade artist-in-residence program, second-grade kite day, third-grade rock-and-mineral curriculum, Mrs. Pang's Word Millionaire reading challenge, Greek Olympics and so on.
"It's a small neighborhood school with certified and caring teachers who go above and beyond," said Partridge, a director of employee communications in Phoenix. "I liked the idea of an academically rich curriculum with the social aspects of a public school that include sports, technology, student council, art, drama and music."
Max, now 14, wants to be an engineer and design sports cars in Europe. Today, he attends a school even farther from home: Horizon High, also in the Paradise Valley district.
In Arizona, there are so many choices — from dual-language immersion programs to performing-arts schools, classical studies to computer coding, specialty science to animal husbandry. There's something for every child's interests. So how are parents making their picks?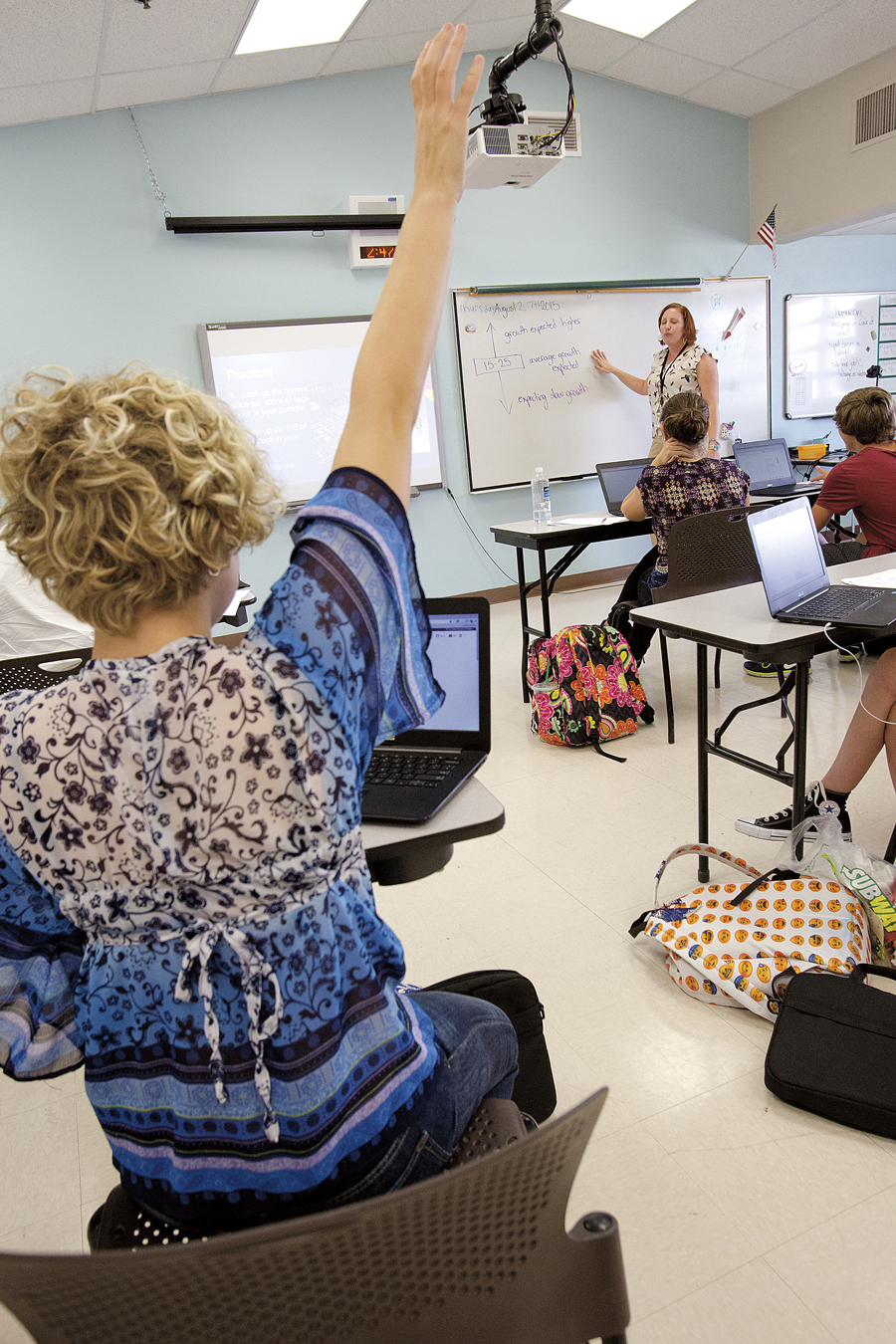 Raising Arizona Kids asked parents of children at traditional public, charter, online and private schools. Convenience and location were never mentioned. Class size, academics and philosophical missions were. Rarely did parents mention test scores. That's no surprise to David Garcia, an Arizona State University professor and national expert on school choice.
"Research shows that the primary issues parents seek in a school have to do with safety and well-being," Garcia said. "Even if a school has the highest test scores in the state, if your child is not comfortable at that school, that's not going to be the best fit."
Garcia and his wife Lori Higuera, of Phoenix, did their own exhaustive search of public, charter and private schools for their two daughters. Olivia, 7, is at Augustus H. Shaw Jr. Montessori School in the Phoenix Elementary district. Lola, 9, is in fifth grade at Arizona School for the Arts charter school.
"Both schools fit with our family and the way we teach at home," he said. "They have these amazing critical-thinking philosophies that are about as far as you can get from test-based education instruction."
Pamela Slim of Mesa also chose a Montessori school for her children, Angela, 8, and Joshua, 11. High ratings, an emphasis on independence and cultural diversity sold her and her husband, Darryl, on Barbara Bush Elementary in the Mesa Public Schools district. The Slims live in the district but chose Bush instead of their closer, assigned school.
Pamela particularly appreciates the school's focus on project management.
"I'm an entrepreneur and a career coach by profession, so I like that the kids have to learn as early as kindergarten how to schedule their time and manage their projects," she said. "I find that is the key skill people need to be successful in today's world of work."
Other parents look for academic rigor. Attorneys Kristin and Robert Henry of Phoenix initially sent their three children to private schools. But their youngest, 7-year-old Charlie, "didn't love it" and complained about going to school.
When Basis Charter Schools announced the opening of its K-8 school, Basis Phoenix Central, they enrolled Charlie and their youngest daughter, Maggie, 10. Their oldest child, Emma, 17, remained at Xavier College Preparatory with her longtime friends.
The Henrys were impressed with the "very" accelerated curriculum. Mandarin is offered as early as kindergarten. Subjects from engineering to drama are blended in special activities.
"We like the fact (that) Basis has a good track record and has independence in the curriculum model that they founded," Kristin said. Even though the coursework is more rigorous than their previous school, the children are happier.
"Honestly, my experience with my son was the most telling. He seemed to go through the most transformation of all my three kids. He went from a relatively uninterested student to being very engaged."
Financial consultant Erin Robbins of Phoenix also wanted strong academics for her gifted first-grader, Hanna, and enrolled her in an advanced curriculum public school. But she found it too intense.
"They didn't have an opportunity for much social interaction," Robbins said. "They even had scheduled bathroom breaks where the children lined up and couldn't move or talk. They sent them in two at a time. Hanna would come home with two hours of homework every night, and she had five tests every week. It was overwhelming. To me, it was preventing her from being a child."
Hanna, now 8, attends her neighborhood school, Lookout Mountain, in the Washington Elementary district. It offers a more "normal" social atmosphere, Robbins said. Its LEAP program (Learning Experiences Activities Projects) addresses her intellectual capacity. Hanna is pulled out of class twice a day for math with eight other gifted students. In the afternoons, she's pulled out for STEM (science, technology, engineering, math).
"I'm very excited about that," Robbins said. "Before, her other school was advanced all across the curriculum. In LEAP, it conforms to her needs."
Some parents send siblings to separate institutions. Suzanne Martin and her husband, Hayes, originally thought a private school near their Scottsdale home was the best choice. But as the years passed, their youngest, Chris, was falling through the cracks. Their oldest, Nick, was becoming bored.
They knew they needed a change. Suzanne spent hours researching new schools, speaking to friends and visiting campuses.
"When I felt a good vibe, I would have the kids shadow at that school," she said. "Sure enough, Chris needed a smaller environment and books that he could feel and (flip pages) back and forth as needed," she said. "We placed Nick in a technically advanced school that uses the iPad system to prepare him for high school."
They found the right fit for Chris, 12, a sixth-grader, at Paradise Valley Christian Preparatory in Phoenix. Nick, 14, is in eighth grade at St. John XXIII Catholic School in Scottsdale. Suzanne, of course, spends more time in the car.
"I call it the loop," she said. "Granted, it's a pain. But shoot, you grab a cup of coffee and go. My husband and I want the best education for our children and will do whatever necessary to achieve that."
Jill Partridge also doesn't sweat the longer commute. For middle school, she drove an 18-mile round trip to Desert Shadows in the Paradise Valley district, where teachers sparked Max's enthusiasm with such activities as Engineering Academy and the re-enactment of the Battle of Gettysburg and the White House Dinner of 1942. Now a freshman at Horizon, Max wants to pursue the school's dual-enrollment program with Rio Salado Community College so he can earn an associate's degree before graduation.
Carrie and Shane Faulkner of Queen Creek found online school to be the best fit for two of their four children. Their youngest, Campbell, 10, has a rare medical condition that can change from minute to minute. He originally attended a traditional brick-and-mortar school, but he was unhappy and losing weight.
"The school had a hard time accommodating his medical needs," Shane said. "He had aides, but they would come and go. He would have one he loved, and then they'd leave."
They turned to friends of other children with special needs who recommended Arizona Virtual Academy, a public online school.
The flexibility of online study allows Campbell, who has mitochondrial disease, to sleep in when his body needs rest. When he has medical appointments — as many as 100 in a school year — he can catch up on school during evenings and weekends.
The Faulkners' artistic seventh grader, 13-year-old Sage, now is enrolled online, too. Arizona Virtual Academy is a great fit, Carrie said.
"She's an early bird, so she starts at 6 a.m. every day and is finished by 1 p.m. Then she does art and cooking in the afternoons," Carrie said.
For socialization, the children participate in such groups as the Miracle League of Arizona that holds sports programs for special needs children and HopeKids, a charity organization that coordinates events for families of medically fragile children.
Meanwhile, both children have become masters of time management and are advancing academically.
"There is no homework, so we have more family time than ever, because when the two little ones are done, they have the rest of their day," Carrie said.
Clearly, school choice is working for these parents. They are spending more time finding the right school whether it's down the block or across town.
Professor Garcia believes that, for the most part, choice is improving education. School districts are creating more academic and extracurricular options to keep and attract students. Expect to see more "choice" schools in the future, he said.
"There is no other state in the country that has as many educational choices for students than Arizona," Garcia said. "We are to the point where if a student has an interest — whether it's vocational education where they can learn a trade, or the arts, or in college prep — they can find a school to address it."
A dozen questions for interviewing schools
If you've just started on this journey of school choice, it can seem daunting. Here are a dozen questions to help get you started finding a quality school that fits your child's interests, goals and temperament. Consider asking prospective schools these questions:
How large are individual classes?
What is the student-to-teacher ratio?
How do your teachers stand out, and how are they aided and evaluated by administrators?
What is a typical class schedule? Is traditional or block scheduling used?
What's your school's educational philosophy or overall approach to learning?
How does your school stand apart?
How much homework is required?
How are parents involved in the school, and how do you communicate with parents?
Do students get recess, exercise or breaks during the school day?
Is your school accredited? If so, how, and if not, why not?
What is your school policy on technology and tech devices, such as tablets or smartphones?
How can I be sure this school is a good fit for my child, and how will you help him/her succeed?