How would you expect three javelinas to spend the holidays?
In Childsplay's "A Very Hairy Javelina Holiday," at Tempe Center for the Arts Nov. 19–Dec. 24, Josefina is preparing to dance the "Sugar Plum Hairy," Juan wants to bake the perfect cookie for Santa, and José? He's hoping for snow in the desert!
But when Cousin Angelina and a tricky coyote show up, everyone's plans — plausible or no — get turned upside down.
The all-new musical celebrates the holidays, family and friends, says director Dwayne Hartford.
"Everyone learns that there's no such thing as a perfect holiday," he adds. "And no matter how you celebrate, or whatever problems might occur, the holidays are so very special, because you share them with your family and friends."
Adapted from the book "A Very Hairy Christmas" by local author Susan Lowell, the show boasts script and lyrics by Jenny Millinger, Childsplay's associate artistic director, and music by Arizona native Todd Hulet.
Another title by Lowell — "The Three Little Javelinas" — was previously turned into a musical called "The Three Javelinas" by Millinger and Hulet and presented by Childsplay in 2015.
Millinger says Lowell was extremely supportive from the very beginning and was there to answer questions and provide feedback. Halfway through the process of turning the first book into a musical, Lowell published "A Very Hairy Christmas" and sent a note to Childsplay saying, "Wouldn't this make a great holiday show?"
"We said, 'Yes, but let us finish the first one first!'" Millinger says, adding that she and Hulet quickly started writing this musical.
One thing that sets this production apart is that it's a sung-through musical with only a little bit of spoken dialogue. Josefina Javelina has an opportunity to dance the Nutcracker.
"We do have a little bit of fun with the Nutcracker along the way," says Millinger. "I think the story itself is really about the family at Christmas and how we adapt as families to make people feel welcome" —especially when someone who has different traditions arrives to join the festivities.
For those who aren't familiar with the creatures, javelinas are a member of the peccary family and are common in much of central and southern Arizona.
Childsplay uses adult professional artists to perform for and teach young audiences and their families. The cast for "A Very Hairy Javelina Holiday" features Chelsea Soto, Rudy Ramirez, Vinny Chavez, Rhetta Mykeal, Jon Gentry and Katie McFadzen.
Soto, who is making her Childsplay debut as Josefina, recently graduated from Arizona State University with a bachelor's degree in musical theater. After graduation, she relocated to New York City, but still performs locally; her regional credits include "West Side Story," "A Christmas Carol, "The Little Mermaid," "Rent," and "The "King and I."
An ASU alumnus, Ramirez is a Childsplay ensemble actor and teaching artist who plays Juan. He was seen recently as Ricardo/Principal in "Junie B. Jones Is Not a Crook." Other credits for Childsplay include Leo in "The Smartest Girl in the World," Tomàs, et al. in "Tomas & the Library Lady" and Tobias in "Sweeney Todd" for Mesa Encore Theatre.
Chavez, who plays José, is the program manager for Arizona Magic of Music & Dance, a nonprofit theater program for youth and adults with disabilities. He returns to Childsplay after playing Handsome Warren in "Junie B. Jones Is Not a Crook."
A recent graduate of the University of Arizona's musical theater program, Mykeal (Angelina) previously appeared in Childsplay's Theatre Academy's "Songs for a New World" and "Pippin." Other credits include Dynamite in "Hairspray" at the Hale Centre Theatre, and Dionne in "Hair" for Scottsdale Desert Stages Theatre.
A member of Childsplay's acting company since 1982, Gentry (Caruso) was awarded a Lunt-Fontanne Fellowship by the Ten Chimneys Foundation. Among his Childsplay productions are "A Year with Frog and Toad," "Robin Hood," "The Color of Stars," "The Yellow Boat" and "Rock, Paper, Scissors."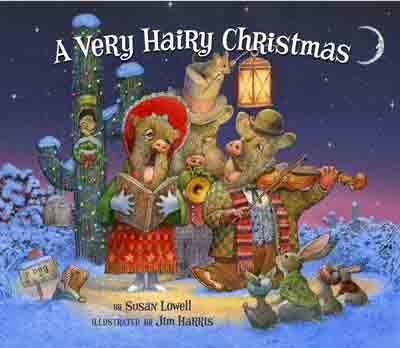 McFadzen (Coyote) has been with Childsplay as a teaching artist and actor since 1993. She has been seen in numerous Valley productions, including a one-woman version of "A Christmas Carol," "How the Other Half Loves" and "The Great Gatsby" for the Arizona Theatre Company; "Wedding Band" and "Rasheeda Speaking" for Black Theatre Troupe and "Bloody, Bloody Andrew Jackson" and "The Women" for Phoenix Theatre.
A special $12 Storybook Preview performance, sponsored by the Steele Foundation, will take place Saturday, Nov. 19, at 1 p.m. Each family attending will receive a free book.
Childsplay recommends "A Very Hairy Javelina Holiday" for ages 5 and up, providing a perfect opportunity for families to experience a holiday musical together.
If you go: Nov. 19 through Dec. 24; 1 and 4 p.m. Saturdays, 1 p.m. Sundays, plus various holiday performances. $12 Storybook Preview 1 p.m. Saturday, Nov. 19. Tempe Center for the Arts, 700 W. Rio Salado Parkway. $12-$26. 480-350-2822 (ext. 2) or childsplayaz.org.