There are travel books, which take you on an imaginary journey, and there are traveling books, which go along with you and entertain you on a real one.
Happily for kids, every good book is a travel book, as well as an excellent traveling companion. But for those times when a change of pace is needed, here are three quiet, self-contained, no-batteries-required options for fun on the go.
"Where's Waldo? The Totally Essential Travel Collection" by Martin Handford.
This sturdy little book, complete with elastic keep-closed strap and two nifty side pockets, contains "all seven classic books, plus six postcards to color and share." Parents who grew up feverishly hunting for the bespectacled guy in the red-and-white stripes can pass the torch to a new generation.
Besides the eye-popping double-page spreads of teeming chaos, each one of the seven sections has two fold-out pages with checklists full of additional items to hunt. Kids could spend a year on a deserted island with "Waldo" and not discover all the hidden-in-plain-sight stuff in this book. For ages 6 and up.
"Labyrinth: Find Your Way Through 14 Magical Mazes" by Theo Guignard.
This thin, oversized volume will tease eyeballs and boggle brains. Each maze has imaginative double-page illustrations that are a cross between Legos, M.C. Escher, and Lane Smith and an accompanying storyline for context. They progress in complexity from first page to last. All that kids need to explore Guignard's visionary mini-worlds is curiosity and a fingertip. Solution diagrams are available in the back of the book. (To make a semi-permanent, non-damaging record of an a-mazing journey, I'd recommend using Post-It pieces or very thin Chartpak-type tape.) For ages 7-10.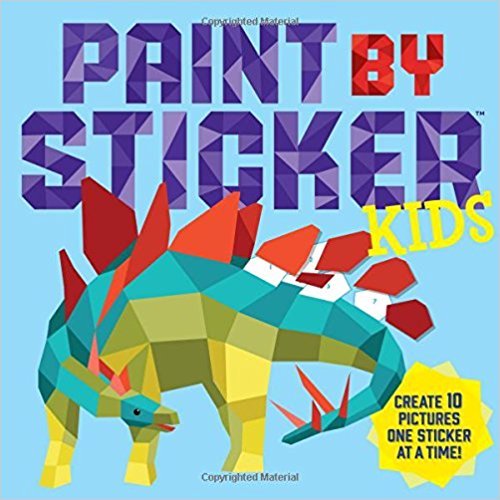 The "Paint By Sticker: Kids" series from Workman Publishing.
These books provide a no-mess alternative when juggling and chasing crayons or colored pencils or puzzle pieces would be detrimental to your child's health and safety (or to your sanity). Each book lets kids create ten framable art posters using pre-coded templates and sturdy stickers. They are great for recognizing and matching numbers and practicing manual dexterity. Three volumes are available–the original, "Zoo Animals," and "Under the Sea." For ages 5-9.
Older kids may enjoy the four "adult" "Paint By Sticker" versions, the original, "Birds," "Masterpieces," or "Travel," each with 12 posters and smaller sticker bits as well as more complicated patterns.