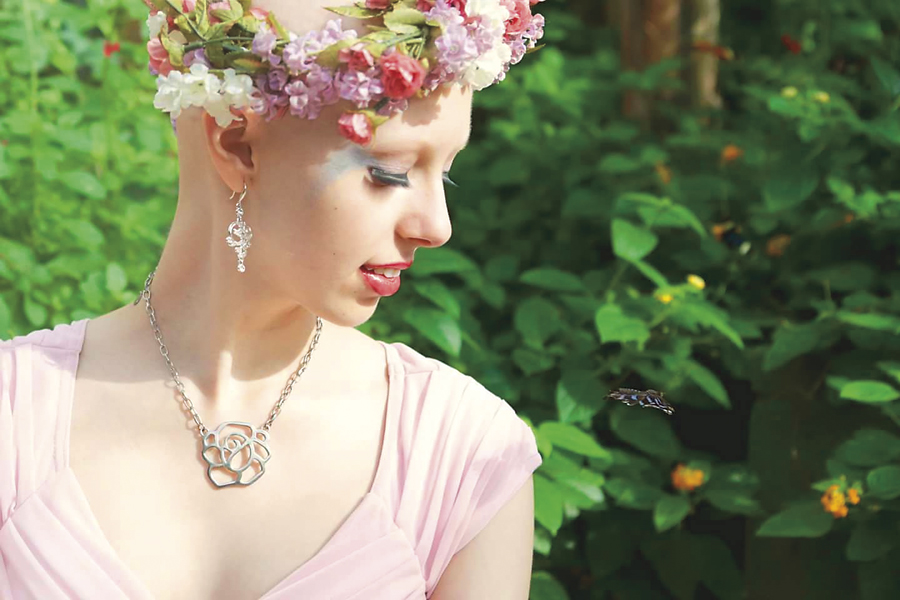 Willow Watson was diagnosed with a rare cancer when she was just 14. One of her fondest Christmas memories was coming home from the hospital to find her house decorated inside and out for the holidays.
"My mom and I love Christmas, we love decorating, we love all of that," says Willow, now 18, who adds that Christmas is more important to her than ever. "I'm just glad I'll be here for another Christmas."
Willow is striking, with short, white-blonde hair framing her pixie-like face. She has a quick smile that lights up her eyes. Her voice is soft and sweet as she talks about the journey that brought her to the Cancer Support Community Arizona in downtown Phoenix (formerly known as The Wellness Community Arizona). She wants to encourage teens who have friends with cancer not to forget them.
When she was in eighth grade, Willow was diagnosed with undifferentiated sarcoma. That's a rare cancer that ballooned up her left cheek like a grapefruit. At first, she didn't understand what was happening.
"I thought that it was going to be a breeze, and I was going to go to the summer camp I always go to," she recalls. "It wasn't until halfway through treatment I was like, 'Oh my God I'm dying. I have cancer.'"
She's two years cancer free. But what happened to her at a very vulnerable time in any teen's life was rough.
Carrie Cantrell, associate director of programming for the youth, teen and family population at CSCAZ, says a cancer diagnosis is especially difficult for teens who are navigating friendships and just learning how to gain independence.
"A teenager's brain is thinking about prom, next Tuesday's math test or what their friends will think about their hair loss," Cantrell says.
It can also be devastating when friends — uncertain how to help — avoid a teen with cancer. The weeks and months Willow spent in the hospital were lonely. She says friends didn't visit, didn't call and seemed to have abandoned her.
Willow's mother, Alyssa, says it was painful to see. "I tried to coax some of her friends [to visit], but I think at that age kids don't know how to deal with it. Which is why awareness is so important."
While Willow's type of cancer is rare, it is unfortunately not rare to be a teen with cancer. One in every 285 children in the U.S. will be diagnosed with cancer by the time they are 20, according to the American Cancer Society.
The feeling of being alone isn't unusual among teens who battle cancer, says Debbie DiCarlo, CEO of CSCAZ, which has expanded its programs to address much-needed teen services.
"There were a lot of services provided to younger children with cancer, but as the children aged out of the children's programs and got into the teenage years, there was not nearly as much offered to them. Or not offered in a setting that made them feel comfortable," DiCarlo says.
Located in a charming two-story historic home, CSCAZ is now a gathering spot for teens. Prom Night for teens with cancer was held here, with its wrap-around porch, wood floors and cozy feel.
"It was beautiful. It was magical!" DiCarlo remembers.
In addition, teens who have cancer — and teens whose family members are dealing with cancer — can participate in cooking classes, arts and crafts and even game nights, so young people can get together and have fun experiences.
CSCAZ also helps teens build skills and find resources to apply to colleges. And of course, there are all the cancer-support classes, including educational and emotional-support groups.
"There are so many things that they have done that have just changed my life," Willow explains. "I mean, the support that they give you! … They gave me so much hope, and they gave me friends — most of the friends that I have now, I made here. There are so many events here that would take our minds off what was going on in our lives, and it's just amazing. It's good to be around teenagers going through the same thing."
For young people who have friends dealing with cancer, Willow says, "It would be really helpful if they would just visit and try to understand. I would love it if my friends had visited me and asked me about my cancer. I would have told them all about it."
This month, CSCAZ will host a Deck-The-Halls party for teens. Food, fun and games will be the order of the day. Willow says she's looking forward to sharing the magic with her friends and family.
"Christmas means a lot more to me now than it did before cancer, because I have another year to spend with my family to have the memories and be here," she says.
Supporting a teen with cancer
When a teen experiences a cancer diagnosis, it's difficult for the entire family, says Carrie Cantrell at Cancer Support Community Arizona.
"Is it normal for your teen to express anger? Who wouldn't be angry at a cancer diagnosis?" Cantrell explains. "They are experiencing a number of changes — their body is changing (and not in the normal teenager way), they are unable to attend school regularly because of appointments and/or hospital stays, and whether they say it or not, their friends may not be supportive either."
Cantrell shares these tips for parents, siblings and friends of teens with cancer.
Tips for parents:
Involve teens in their own care. Help educate them on procedures and encourage them to ask questions at appointments. This also helps prepare them for adulthood.
Remain supportive. Discuss any emotions that your child is (or siblings are) feeling, and seek help if needed from a counselor, social worker, or doctor — especially if moods are unusual for two weeks or more.
Let them process their emotions. Parents want to know what their teen is thinking, but that is difficult if they are not the type to share or communicate their emotions. If their behavior has changed, seek help.
Communicate as a family, and keep everyone in the loop. For siblings, be honest about the situation, but at an age-appropriate level.
Tips for friends:
Don't avoid a friend with cancer. Cancer is not contagious. Teens with cancer have weakened immune systems and might feel tired or sick, but they have good days, too! They might wear a face mask or wash their hands more often to avoid germs.
Visit. Invite them to do things that you two enjoyed doing before cancer. Someone with cancer just wants to feel normal again. Your friend may no longer be able to play basketball, but there are lots of other activities you can do together.
Listen. It's OK if you don't know what to say. It's also important to talk about topics outside of cancer. Reach out to a teacher, school counselor or trusted adult if you feel overwhelmed.
To learn more: Cancer Support Community Arizona programs are free. Donations are accepted and appreciated. 602-712-1006 or cscaz.org