We last added to this list at 8:25 a.m. Saturday, Oct. 31, 2020. To find just those events that are open TODAY, visit our regular calendar of events.
CHANDLER
Oct. 24-31: Trick-or-Treat at Basha Library. Visit Chandler's Basha Library the week before Halloween (Oct. 24-31) dressed in your costume and get a treat at the Reference Desk!
Oct. 29-30: Halloween Spooktacular is an all-ages, drive-thru haunted experience along Commonwealth Avenue. As you travel along Commonwealth Avenue, expect to see some larger-than-life scenic environments featuring Halloween favorites, multimedia displays, and live characters. The experience is not scary but can be a little spooky in a few places.
GLENDALE
Oct. 2-31: AZ Field of Screams at Tolmachoff Farms is a haunted corn maze recommended for children ages 10 and older.
Oct. 19-31: 13 Nights of Fright is Westwind Drive-in's response to a pandemic Halloween season. Enjoy classic horror movies like "Halloween" (2018) and "The Exorcist," a few vintage films like "Pyscho" and "The Bride of Frankenstein," plus films for younger audiences like "Casper" and "Goosebumps." $8-$8.50, $2 for kids 5-11, free for kids 4 and younger.
Oct. 29: Halloween Boo Drive Thru is a five-minute drive-thru event filled with treats, spooky decorations and giant inflatables.
GOODYEAR
Oct. 23-24: Goodyear Ballpark Fall Festival is a Halloween-themed illuminated drive through the Goodyear Ballpark parking lots. Visitors will experience a trick-or-treat village with free candy and pumpkin giveaways.
LITCHFIELD PARK
Oct. 29-30: Spooktacular at Wildlife World Zoo, Aquarium and Safari Park. Bring the whole family to experience the exotic animal collection. Kids dressed in costume will be admitted free with a paid adult.
MARYVALE
Oct. 30: Maryvale Drive-Thru Boo is a free, socially-distanced, drive-thru event in the Maryvale Community Center parking lot.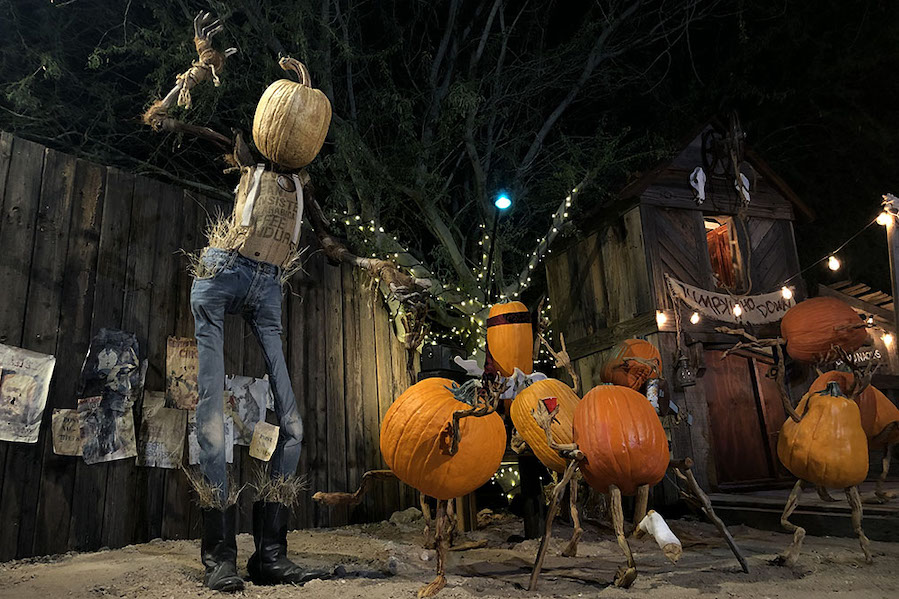 MESA
Sept. 25-Nov. 1: Spooktacular Golf. Enjoy the festive lights and decorations on one of the 18-hole mini golf courses at Golfland Sunsplash in Mesa.
Oct. 17-Nov. 8: Mesa Arts Center presents Ray Villafane's Strange Encounters Exhibition — Halloween-theme works by the internationally acclaimed sculptor, pumpkin carver and creative installation designer — in 15 outdoor or store-window installations throughout Mesa.
Oct. 24: Pumpkin Splash. Take a dip in a floating pumpkin patch at one of two City of Mesa heated swimming pools. Admission includes a pumpkin to decorate!
Oct. 31: Halloween Boo! Parade. Mesa Public Library is hosting its Halloween Boo! Parade at all three branch locations. Show up in your favorite costume, bring a treat bag and maybe even decorate your car!
PEORIA
Oct. 24: Halloween Monster Bash. The City of Peoria hosts a scary good time at its annual bash at the Peoria Sports Complex.
PHOENIX
Oct. 2-Nov. 7: Fear Farm offers scary attractions and a haunted house for teens and adults, geared this year to a completely contactless experience. General admission includes access to four attractions: The Plague, Fallout, Bunker, and Haunted Corn Maze: The Reaping at Fear Farm.
Oct. 31: Hall of Flame Firefighting Museum "Trucks and Treats" offers socially distant Halloween fun.
Oct. 22-31: Halloween Town Pumpkin Patch has moved to Paradise Valley Mall this year, with arts and crafts, carnival games, rides, face painting, food and more. Costumes encouraged!
Oct. 24: Drive-Thru BooFest hosted by Phoenix Parks and Recreation will be a socially-distanced, drive-thru event this year at Paseo Highlands Park.
Oct 24: Moonlit Monsters + Munchies. Stalk through Desert Ridge Marketplace in your Halloween best and snag safely-packaged sweets, hear live music and marvel at massive, monstrous murals.
Oct. 29: Spooky Boo-Throo is a free, socially-distanced, drive-thru event hosted by Phoenix Parks and Recreation at Pecos Community Center.
Oct. 31: Solve it with Science. Arizona Science Center invites guests to put STEM skills to use to solve spooky mysteries. Use science to crack a Halloween-themed case using fingerprint analysis, lock picking and handwriting analysis.
Oct. 31: Trick-or-Treat at the Children's Museum of Phoenix during the museum's reopening weekend. Be among the first to try out the new, all-outdoors, Adventure Play experience.
Oct. 31: Trouble at Haunted Mountain, a drive-up puppet show from Great Arizona Puppet Theater is a musical adventure set in old-time Arizona.
QUEEN CREEK
Oct. 1-31: Trunk or Treat 2020 will be a modified format including a house-decorating contest (residents only), a costume photo contest (for people and pets), a pumpkin decorating contest, and a candy-drive fundraiser.
SCOTTSDALE
Oct. 23-Nov. 1: Halloween-theme Moonlight Movie Night at Sonora Village is a socially distanced drive-in movie experience featuring family favorite spooky flicks.
Oct. 24-31: Creep in the Deep is OdySea Aquarium's answer to a safe family Halloween experience. Watch for ghostly skeleton divers, spooktacular animal enrichment, and ghoulishly fun decorations.
TEMPE
Oct. 17-Nov. 1: Legoland Discovery Center Brick-or-Treat features special Lego builds, Lego pumpkin hunts and a spooky, all-new AR experience.
Oct. 23: Moonlit Monsters + Munchies. Dress up in your costumes and stalk through The District at Tempe Marketplace. Collect safe sweets and enjoy live music and massive Halloween-theme murals.
Oct. 25: Downtown Tempe Halloween Stroll. Ghosts, goblins, and princesses of all ages are invited to to enjoy some not-so-spooky Halloween fun including festive crafts, games, trick-or-treating, and a virtual costume contest.
VALLEYWIDE
Oct. 31: Halloween Comicfest. Participating local comic book stores celebrate Halloween by giving away Halloween-themed comic books and hosting spooktacular costume contests.
STATEWIDE
Oct. 31: Bashas' Halloween Party. Trick-or-treat at candy stations, take lots of photos, get a free cookie from the bakery department and decorate a Halloween cake at any of Bashas' 40-plus locations.
VIRTUAL
Oct. 10-31 (Saturdays): Classic Tales of Fright is a chance to join local performers from the Arizona theater community as they narrate spooky ghost stories, haunted short plays, mysterious monologues, scary poetry, and original Halloween-themed works.
Oct. 20: Haunted Arizona – A Night of Storytelling. Join Debe Branning, director of MVD Ghostchasers of Mesa/Bisbee and author of "Sleeping with Ghosts" for a special evening of storytelling.
Oct. 30: Halloween Storytime with Ballet Arizona at 10 a.m. on Ballet Arizona's Facebook page.
Oct. 30-Nov. 1: iD Halloween Block Party, iD Tech's free, virtual trick-or-treating event with Roblox.
RELATED: