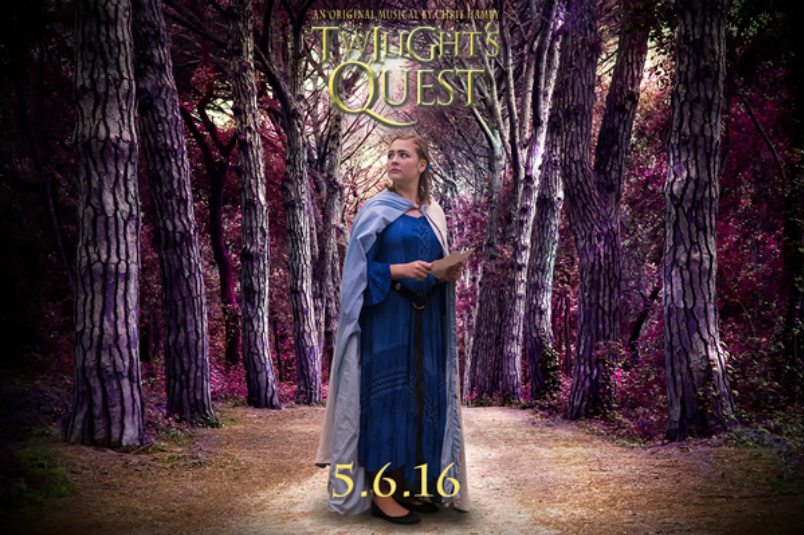 Twilight is on a quest to solve a mysterious riddle and forever vanquish darkness in the enchanted forest of Callowell. Peoria's Theater Works invites audiences to join her May 6-22 as she encounters mystical mermaids, fairies, pirates and gypsies on her magical journey.
A YouthWorks production, "Twilight's Quest" is an original fantasy adventure written and directed by Chris Hamby, director of education and outreach for Theater Works.
Appropriate for ages 5 and up, the show features music composition by Joseph Martinez and Stephen Schermitzler, additional lyrics by Melissa Alvarez Stevens, musical direction by Jay Melberg and choreography by Paul Pedersen.
"This production has been 19 years in the making, and I am thrilled to have it out of my head, onto the page and, now, onto the stage," Hamby says.
More than 30 talented young actors make up the cast.
Making her Theater Works debut as Twilight is 15-year-old Lily Castle, who has appeared in 17 other roles in the Valley, some of which include Tracy Turnblad in "Hairspray" for Desert Foothills Theater and Fiona in "Shrek The Musical JR." for the Musical Theatre of Anthem. Lily is a freshman at Xavier College Preparatory.
Returning to Theater Works are Emily Benoit (Mother), Quincy Janisse (Maevilin), Josh Pike (Cobweb) and Camden Wawro (Zephyr). Emily recently portrayed Lily Craven in "The Secret Garden" for Theater Works. The 17-year-old senior at the Arizona Conservatory for Arts and Academics is looking forward to pursuing vocal performance at Arizona State University next fall.
Quincy is a 15-year-old student at Boulder Creek High School. Other Theater Works roles include Alice in "The Secret Garden" and Cinderella's cruel stepmother in "The Tales from the Arabian Nights."
Josh was recently seen at Theater Works as Mowgli in "The Jungle Book" and Wilbur in "Charlotte's Web." This is the 14th Theater Works production for the 12-year-old home-schooled sixth-grader.
Camden, last seen on the Theater Works stage as Martha in "The Secret Garden," is a 15-year-old sophomore at Ironwood High School.
Hamby sees "Twilight's Quest" as a story about believing in oneself. "Each day I work with young people, I see their confidence build and grow despite any obstacles or challenges," he says. "Though they are all on their own journeys, they are each working, in their own way, to make a difference. The transformative power of the arts shows on the stage and in their own lives."
If you go: 7 p.m. Fridays and Saturdays, 2:30 p.m. Sundays, May 6-22, Gyder Theater at the Peoria Center for the Performing Arts, 8355 W. Peoria Ave. $15. 623-815-7930 or theaterworks.org