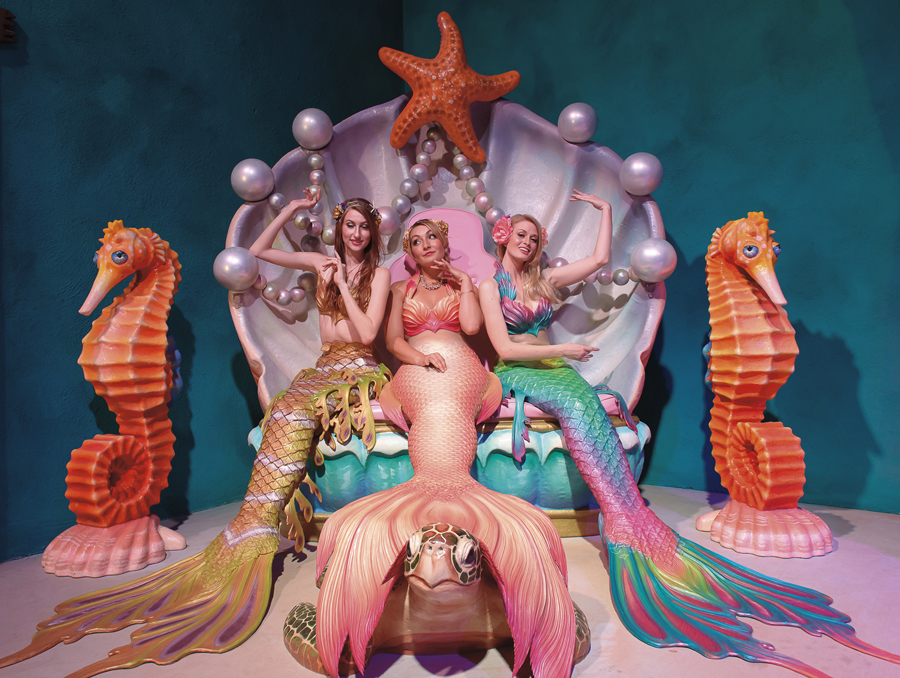 Love is in the air this month — as in, we love these February family events! Chocolate lovers will want to head to downtown Glendale, but you also can get a taste of the upcoming Major League Baseball season when the Arizona Diamondbacks host a day dedicated to their fans. February also brings us a month rich in culture. From Chinese Week to the Arizona Renaissance Festival, your family can travel around the globe or back in time — no plane reservations needed! Join the lovefest with this these top events.
➊ Glendale Chocolate Affaire. Chocolate takes center stage in historic downtown Glendale during this weekend. Sneak a taste from dozens of vendors while enjoying live entertainment, activities and factory tours of Arizona's famous Cerreta Candy Co. Nearby restaurants offer special menus. Friday-Sunday, Feb. 3-5. 5-10 p.m. Friday; 10 a.m. to 10 p.m. Saturday; noon to 5 p.m. Sunday. Free admission. Murphy Park, 58th and Glendale avenues. glendaleaz.com.
➋ Cat in the Hat's 60th Birthday Bash. You can expect mayhem and madness when Childsplay celebrates the 60th anniversary of Dr. Seuss' "Cat in the Hat." Join Thing 1 and Thing 2 for an afternoon of cat-themed crafts, Seussical games and play, cat snacks and a visit from the Cat himself, followed by a performance of Childsplay's "The Cat in the Hat." 2-3:45 p.m. Sunday, Feb. 5; performance 4-5 p.m. $20-$40. Childsplay Campus for Imagination and Wonder, 900 S. Mitchell Drive, Tempe. 480-921-5761 or childsplayaz.org.
➌ "Matilda the Musical." Based on the beloved Roald Dahl novel about an extraordinary girl who takes a stand to control her destiny. Tuesday-Sunday Feb. 7-12. 7:30 p.m. Tuesday-Friday; 2 and 7:30 p.m. Saturday, 1 and 6:30 p.m. Sunday. $20-$125. ASU Gammage, 1200 S. Forest Ave., Tempe. 480-965-3434 or asugammage.com.
➍ Chinese Culture and Cuisine Festival. It's the Year of the Rooster. Celebrate the sights, sounds and tastes of Chinese culture. See the famous dragon and lion dance, watch martial-arts demonstrations and listen to musical performances. Shop at souvenir and artisan booths and taste authentic Chinese cuisine. Friday-Sunday, Feb. 10-12; 9 a.m. to 3 p.m. Friday, 10 a.m. to 6 p.m. Saturday-Sunday. Free. Margaret T. Hance Park East, 1202 N. Third St., Phoenix. phoenixchineseweek.org.
➎ Arizona Renaissance Festival and Artisan Marketplace. Huzzah! Travel back to the 16th century, where brave knights joust and nonstop pageantry fills this 30-acre festival village, nestled in the shadows of the Superstition Mountains. Enjoy live entertainment, food and artisan shops. Saturday, Feb. 11, through Sunday, April 2. 10 a.m. to 6 p.m. Saturday and Sunday. $24; $14 for ages 5-12; free for ages 5 and younger. Discounted tickets at Fry's Food stores. East of Apache Junction on U.S. 60. 520-463-2700 or renfestinfo.com.
➏ World Champion Hoop Dance Contest. Experience the stunning sport and culture of hoop dancing as 70 top Native American hoop dancers (from children younger than 5 to adults) from the United States and Canada compete for the title. Enjoy frybread and other Native American foods. 9:30 a.m. to 5 p.m. Saturday-Sunday, Feb. 11-12. This event includes museum admission. $18; $12 for American Indians and museum members; $7.50 for ages 4-12; free for ages 3 and younger. Heard Museum, 2301 N. Central Ave., Phoenix. 602-252-8840 or heard.org/hoop.
➐ Friday Night Lights. Fore! The Westin Kierland Golf Club offers Friday-night fun that includes golf games, 20-minute clinics with course pros, a nine-hole glow-putt course, music and  family-friendly beverage cart service. 5-7 p.m. Fridays, Feb. 17 through April 25. $10; free for ages 6 and younger with a paying adult. The Westin Kierland Resort and Spa, 6902 E. Greenway Parkway, Phoenix. kierlandresort.com.
➑ Subway D-backs Fan Fest. The Arizona Diamondbacks host this 13th annual tribute to their fans. "Drive the bus" with David Peralta, "Go yard" with Paul Goldschmidt or get silly with Baxter the mascot. Fans can meet Diamondbacks players, coaches and broadcasters. Autograph and photo sessions available. Noon to 4 p.m. Monday, Feb 20. (Note: This was recently rescheduled because of weather concerns.) Free. Salt River Fields at Talking Stick, 7555 N. Pima Road, Salt River Reservation east of Scottsdale. 602-462-3378 or dbacks.com/fanfest.
➒ "Odd Squad Live!" Stars of the Emmy-award-winning PBS Kids series are out to solve a seriously strange case in Phoenix — and agents need help. Audience members will participate in this laugh-out-loud adventure, putting math skills to use to help decipher and unravel clues. 2 p.m. Saturday, Feb 18. $41-$51. Comerica Theatre, 400 W. Washington St., Phoenix. 602-379-2888 or oddsquadlive.com.
➓ Camp Fair AZ. It's not too early to plan for the summer. "Raising Arizona Kids" magazine's Camp Fair AZ returns for its 14th year to help parents and kids pick the best summer activities — from theater to sports, technology to the arts. Staff from Valley day camps and overnight camps around the state will answer questions to help you make great choices. 10 a.m. to 3 p.m. Saturday, Feb. 25. Free. Rancho Solano Preparatory School, 9180 E. Via de Ventura, Scottsdale. raisingarizonakids.com/camp-fair.