I can't keep it a secret: April is my favorite month. It's 100 percent springtime — spring fever is welcomed, and spending time outside is a treat. No wonder we celebrate Earth Day in April. My family's April calendar is overbooked, yet I tease my husband that his schedule is conveniently clear when it comes to baseball and Little League practices. Who doesn't love the crack of a bat sending a baseball into orbit? Although I'm prepared to spend a lot of time sitting in the stands, I'm also looking forward to dozens of Valley festivals. Never say never when it comes to building sandcastles in the desert. Light up the night sky with hope, or use a little pixie dust to help kick-start your adventure at these fantastic April events.
Apr 1-2: SandFest. The Children's Museum of Phoenix is bringing the beach to the desert. Enjoy free outdoor fun from 9 a.m. to 4 p.m. Saturday, April 1. There will be food trucks, live music and the Sand Guys from Travel Channel's "Sand Masters," who will create one-of-a-kind sand sculptures and share basic sand-sculpting techniques. Museum admission is $8. Be sure to stick around for the sandcastle-building competition. Then it's Sandparents Day from 9 a.m. to 4 p.m. Sunday, April 2. Grandparents with their grandchildren get free museum admission. Take advantage of sandcastle photo opps and all sorts of special activities. Children's Museum of Phoenix, 215 N. Seventh St., Phoenix. 602-253-0501 or childrensmuseumofphoenix.org.
Apr 2: Arizona Diamondbacks Opening Day. Put 'em in, coach! The Arizona Diamondbacks take the field in their home opener against the San Francisco Giants at 1:10 p.m. Sunday, April 2, at Chase Field, 401 E. Jefferson St., Phoenix. The first 40,000 fans get a Giveback T-Shirt and a schedule magnet, and Fry's Food Stores hosts a pre-game fiesta. dbacks.com.
Apr 2: Brain Candy Live.  Adam Savage, co-host of Discovery Channel's "Mythbusters,"  and YouTube star Michael Stevens join forces to reveal the mysteries and magic of science. This theatrical experience includes more than 3 tons of crazy toys, tools and demonstrations. 7:30 p.m. Sunday, April 2. $32-$137. Mesa Arts Center, 1 E. Main St. 480-644-6500 or mesaartscenter.com.
Apr 6-10: USA Hockey National Championships. USA Hockey brings its national youth championships to Tempe and Scottsdale April 6-10. The Valley will host 32 teams from across the country — all with players 15 and younger. "This is an incredible opportunity to showcase youth hockey in Arizona and the tremendous facilities we have to offer," says Geoff Pashkowski of the Arizona Amateur Hockey Association. Undoubtedly, some of these players will go on to the National Hockey League. Full event passes are $35. See games at the Ice Den, 9375 E. Bell Road, Scottsdale, and Oceanside Ice Arena, 1520 N. McClintock Drive, Tempe. azamateurhockey.org.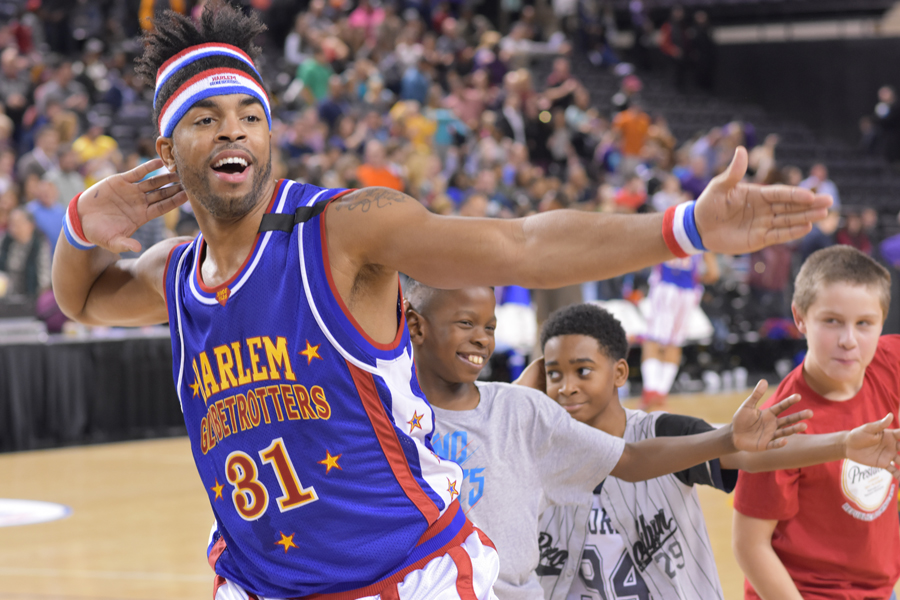 Apr 7-8: Harlem Globetrotters. Swish, Hoops, Ace and Buckets! Those aren't just basketball terms; they're names on the Harlem Globetrotters 2017 World Tour roster. See basketball artistry and one-of-a-kind entertainment. $11-$93.  7 p.m. Friday, April 7, at Gila River Arena, 9400 W. Maryland Ave., Glendale; and 2 and 7 p.m. Saturday, April 8, at Talking Stick Resort Arena, 201 E. Jefferson St., Phoenix. harlemglobetrotters.com.
Apr 8: Phoenix Children's Festival. This inaugural one-day festival celebrates children 3 to 12. About 100 vendors are expected at this family-friendly event offering health, wellness and educational information to families, plus entertainment and fun. The festival also raises money for the nonprofit Back to School Clothing Drive. $10; free for ages 2 and younger. 10 a.m.-6 p.m. Saturday, April 8, at CityScape, 1 E. Washington St., Phoenix. phoenixchildrensfestival.com.
Apr 12-16: Maricopa County Fair. Indulge in fair food, stop by the shopping pavilion or get adventurous on a daring carnival ride Wednesday through Sunday, April 12-16, at the State Fairgrounds, 1826 W. McDowell Road, Phoenix. $9; free for ages 7 and younger; free admission 10 a.m. to 3 p.m. Wednesday-Friday. maricopacountyfair.org.
Apr 13-16: Disney on Ice presents Dream Big. Bundle up, Disney on Ice is back! With the help of enchanted pixie dust, Tinker Bell takes you on a journey through beloved Disney tales. See it Thursday through Sunday, April 13-16. Tickets start at $22.50. Talking Stick Resort Arena, 201 E. Jefferson St., Phoenix. 800-745-3000 or disneyonice.com.
Apr 22: Earth Day. Celebrate our planet at the Phoenix Zoo with a day of games and activities that nurture nature. All activities included with admission: $24.95; $14.95 for ages 3-12; free for ages 2 and younger. 9 a.m. to 4 p.m. Saturday, April 22. The Phoenix Zoo, 455 N. Galvin Parkway. phoenixzoo.org.
Apr 29: Festival of Tales. Enjoy a fun day of reading, literacy and cultural activities for children — including storytelling, arts and crafts, games, face painting, live music and food trucks. The event brings books to life and provides nearly 5,000 free books to children. The free-to-the-public event is staffed and funded by Paradise Valley Community College students, staff and volunteers and the nonprofit Southwest Human Development. 9 a.m. to 2 p.m. Saturday, April 29. Kranitz Student Center, 18401 N. 32nd St., Phoenix. festivaloftales.com.
Apr 29: Chalk Art Festival. Dozens of chalk artists will convene during this fourth annual event at Tempe Marketplace, Desert Ridge Marketplace and Westgate Entertainment District outdoor shopping malls. Artists from the Southern Arizona Arts and Cultural Alliance will craft colorful illustrations on canvas murals (not on the pavement this year) and offer free instruction and chalk to anyone in the KidsZone or community participation areas. 11 a.m. to 6 p.m. Saturday, April 29. Free. shopdesertridge.com, tempemarketplace.com and westgateaz.com.
Apr 29: Lantern Fest. Bring the family to Schnepf Farms from 2 to 9 p.m. Saturday, April 29, for an unforgettable sight as folks light up the sky with hopes and dreams. Friends and families can enjoy food (including s'mores), games, a scavenger hunt and live music until sunset. Then, crowds will launch lanterns into the sky at sundown. $7-$40. Children younger than 12 will get a small gift instead of a lantern. Schnepf Farms, 24810 Rittenhouse Road, Queen Creek. lanternfest.com. (This event was originally scheduled for April 8 and postponed until April 29 because of weather conditions.)
Apr 29-30: Beauty and the Beast. Can't get enough of "Beauty and the Beast?" Ballet Etudes presents the classic fairy tale about the independent Belle, a beast and an enchanted castle. Watch as promises are made, friendships are formed and love blooms. 2 and 7 p.m. Saturday, April 29 and 3 p.m. Sunday, April 30. $16 and $22. Chandler Center for the Arts, 250 N. Arizona Ave., Chandler. 480-782-2680 or balletetudes.net.