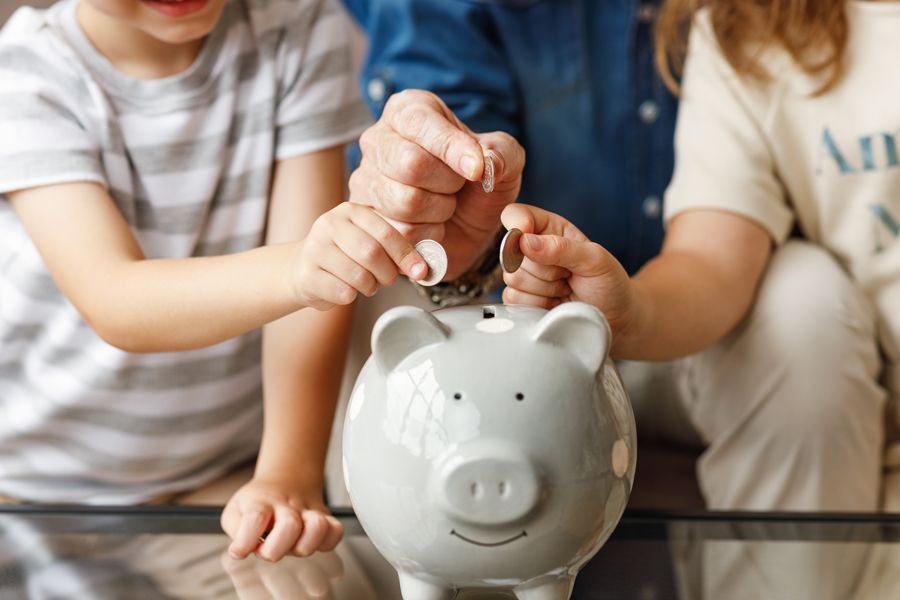 By Dana Michalowski, Assistant Vice President and Branch Manager at WaFd Bank
April 27th is National Teach Children to Save Day! If you're wondering when it might be the right time to start talking to your children about money, as a banker, I believe the best time is as soon as they start asking for items that cost money! If you didn't do this, then now is the best time!
It's never too early for children to start saving and learning about the importance of money. Talking to kids about money will look different as they age but even if they aren't ready for hard numbers, you can discuss the concept of money and the real price of saving.
Focus your money conversations on your family values. 
Are you saving for future education? A big trip you are all excited for?  Tell them about it! Have a budget meeting to talk about how you can save for this goal. It's important to accompany these discussions with visual aids, such as monthly bills or a piggy bank to make the concept of saving money feel tangible and real. These discussions are starting points for valuable lessons.
For example, take the monthly electricity bill and discuss the way this bill is an important priority to pay off. After you pay it, you can discuss ways to lower these bills and use those savings towards your goal. You and your family can brainstorm money saving ideas such as turning off the lights when you're not using them, upgrading to LED lightbulbs, or switching to a cost-effective energy savings plan. Emphasize that these savings should go towards a goal.
Once kids get older, it is time to start to get more in depth about the importance of saving money and budgeting. You can show older children your family budget to explain the different types of savings— whether it be emergency savings, saving up for a new car, or savings for fun things like a vacation or gifts.
The more you talk about money the better.
Now that you have gone over saving money. Let's talk to kids about how you earn money. This is a great time to talk about where you go to work every day and that is how you pay the family bills. Again, how this is discussed will be different for different aged children.
For younger children just the basic concept is enough. As children get older you can get into the dollars and cents, possibly even showing them paystubs.  If you are able, let children earn money around the house. This money can be saved up for bigger items or used immediately, let them make this decision.
When you feel your older child is responsible and ready, introduce them to an ATM card or debit card and open their own bank/savings account. This will be one of the most important ways your older children will start interacting with money.
Don't forget that helpful resources are available                       
According to the FDIC only 29.7% of US schools teach financial literacy. Now would be a great time to check with your children's school about whether they have any programs in place. If your child's school doesn't offer financial literacy, suggest they connect with a group or nonprofit dedicated to teaching children about financial literacy such as Junior Achievement. Your bank may also have online and mobile app resources that can be used at home to continue your children's understanding of important concepts related to money.
Talk to children about money early and often. Financial literacy is a key building block to a secure financial future. It's important to ingrain the importance of money and budgeting from a young age to prevent learning lessons the tough way when they're older with serious repercussions.
About WaFd:
Founded in 1917, WaFd Bank has over 200 branches in eight western states and is headquartered in Seattle, Washington. WaFd Bank offers a full spectrum of banking services including checking and savings accounts, credit cards, mobile and online banking, real estate financing, retirement plans and loans. To learn more about WaFd Bank, please visit www.wafdbank.com.