Breaking news: Distinguished scientists at the University of Gobbeldi Gookindinoggin have just released the results of a 150-year longitudinal study of young children and reading. They conclude that books containing humor are very harmful.
"Funny books lead to silliness, which leads to laughter, which can produce serious consequences such as faster learning, stronger memory, enhanced creativity, and improved social skills," according to Dr. M. Olden Borring, the study's leader. "What child needs that? Our recommendations will save parents from having very silly children."
The researchers determined the following titles and authors to be some of the worst offenders. They advise parents to keep these works out of the hands of impressionable children at all costs. Note that picture books are generally for ages 3-7, but these particular silly titles have extra-wide appeal. Parents must be vigilant.
"Battle Bunny"
By Jon Scieszka, Mac Barnett and Matthew Myers
Never underestimate the power of a 7 year-old boy with a pencil.
"The Book With No Pictures"
By B. J. Novak
Read-aloud volunteers, be afraid…be very afraid.
"Clack, Clack, Moo: Cows That Type"
By Doreen Cronin and Betsy Lewin
A wake-up call for every farmer: Leave a typewriter in a barn? BIG no-no!
"Don't Let the Pigeon Drive the Bus!"
By Mo Willems
Seriously. He's not kidding. Public transportation will never be the same.
"Dragons Love Tacos"
By Adam Rubin and Daniel Salmieri
It's not the tacos that will get you; it's the salsa.
"Falling for Rapunzel"
By Leah Wilcox and Lydia Monks
Some day your prince may come. So, hey! Focus!
"George and Martha"
By James Marshall
Hilarious hippos and deadpan humor from a master.
"I'm Bored"
By Michael Ian Black and Debbie Ridpath Ohi
A bored girl and her bored-by-children potato. Nothing new about that…
"Interrupting Chicken"
By David Ezra Stein
Some bedtime fairy tales just never get told. Wonder why?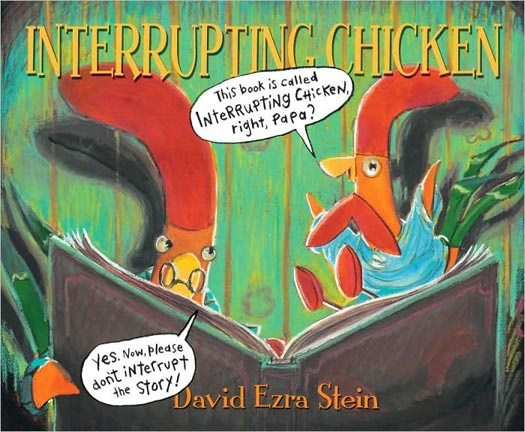 "Julius, the Baby of the World"
By Kevin Henkes
The Green-Eyed Monster: 10. Big sister: zip.
"King Bidgood's in the Tub"
By Don and Audrey Wood
Ah, the rich (and royal) ARE different!
"Officer Buckle and Gloria"
By Peggy Rathmann
Nothing is more important (or funnier) than safety…except maybe friendship.
"Parts"
By Ted Arnold
Ever feel like you're falling to pieces? Well, sometimes you are. Who knew?
"Shark vs. Train"
By Chris Barton and Tom Lichtenheld
Who is toughest? Let the games begin…
"The Stinky Cheese Man and Other Fairly Stupid Tales"
By Jon Scieszka and Lane Smith
These are totally cracked versions of favorite fairy stories.
"Unicorn Thinks He's Pretty Great"
By Bob Shea
Unicorn has got Goat's goat. Raining cupcakes, indeed!
I repeat. These books are SO bad. Never, ever read them. Ever. April Fool!
More videos, just for fun…
https://youtu.be/OqsAtWGYjGU