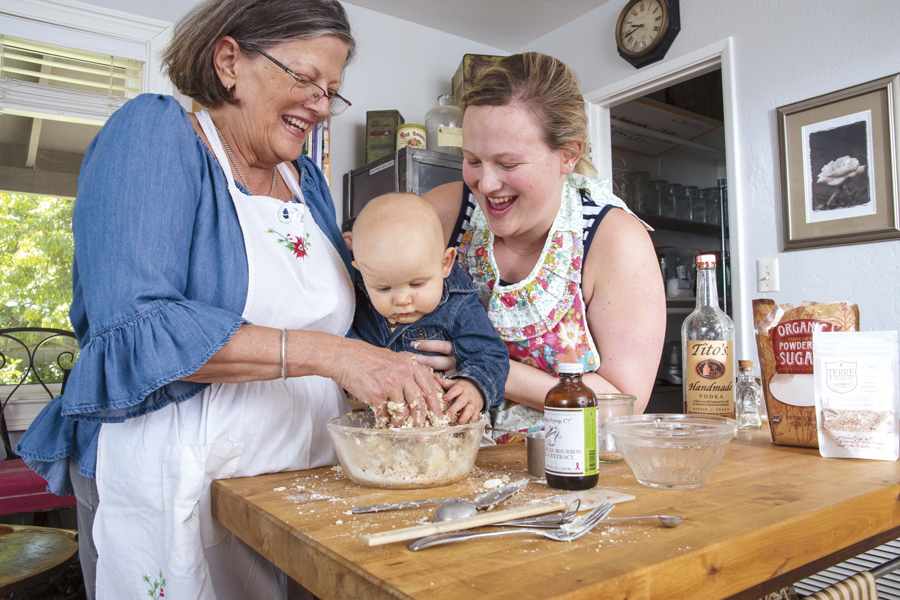 Recruit your kids to help make easy, elegant culinary treats for family, friends and teachers
The best holiday gifts come from your kitchen. So says Terri Nacke, owner of Terre Botanicals, a Phoenix company that makes botanically infused sugars, salts and edible essential oils.
"Homemade goods say love, a gift from my heart to yours," Nacke insists. "They are both practical and personal."
In Nacke's family, gifts from the kitchen also come wrapped in tradition. She spent holidays cooking and baking with her late mother and grandmother. Today, she does the same with daughter, Cassi Harris, and her 11-month old grandson, Jordan.
Harris is her mother's daughter. She considers homemade better than anything she could buy at the mall or online. Both also consider making gifts from scratch a welcome antidote to standing in long lines at crowded stores.
"Being in the kitchen with family connects generations and makes for better memories than rushing around shopping," said Harris, an assistant manager at BMO Harris Bank in Phoenix.
This year, the mother-daughter team is making three different culinary gifts to give to family and friends and as hostess gifts. All three avoid the holiday pitfall of over-the-top sweetness.
"They are simple indulgences — gifts that combine the wonderful flavors of the season and Arizona," said Nacke, a leader for nearly 25 years in the local foods movement.
RELATED: Engage kids in holiday meals by letting them help cook, plan (plus recipes!)
Their first is Russian tea cookies, a family recipe that Nacke adapted to be gluten free for Cassi, whose celiac disease prohibits her from eating flour.
For the second gift, they brew a natural syrup made with cardamom-infused sugar. Cardamom is an aromatic spice with a citrusy finish.
They pour the syrup into gift bottles, dressed up with a holiday ribbon and a card suggesting uses — such as adding to coffee, sparkling water, Prosecco, hot chocolate, whiskey or even mascarpone cheese.
Nacke suggests using the syrup similarly to sugar, sparingly or just enough to add its signature flavor.
Finally, they man the stovetop for their third gift — orange curd. A centuries-old English treat, the curd made from Arizona-grown oranges can be used to top toast, fill pies or simply be eaten by the decadent spoonful.
Nacke recommends setting aside a few hours to make the gifts. First, shop for the ingredients, always opting for the best and freshest. Gather family or friends and divide the work according to age and skill.
"You are never too young to be in the kitchen. Jordan might not remember this year, but he will someday. And, this year, we will," she said. "Christmas for us is really about the time spent in the kitchen together."
RELATED: Pumpkin season treats families can craft together
Details: Find Terre Botanicals infused edibles at Old Town Farmers Market in Scottsdale and online terrebotanicals.com.
Recipes from Terri Nacke of Terre Botanicals
Russian Tea Cakes
1 cup butter (preferably from grass-fed cows)
½ cup organic powdered sugar, plus more for rolling
2¼ cups whole wheat pastry flour or gluten-free flour
2 teaspoons pure vanilla
¾ cup finely chopped toasted pecans
¼ heaping teaspoon Piment d'Ville Botanically Infused Salt (red salt infused with chile)
Heat oven to 400 degrees. In a large bowl, mix butter, ½ cup powdered sugar and vanilla. Slowly stir in flour, nuts and salt until dough holds together. Shape dough into one-inch balls. Place about one inch apart on ungreased cookie sheet. Bake 10-12 minutes, or until dough is set, but not brown. Remove from cookie sheet and cool slightly on wire rack.
Next, place powdered sugar in a large, flat-bottomed bowl. Roll warm cookies in powdered sugar. Cool on a brown grocery bag. Roll in powdered sugar a second time. Makes about 48 cookies.
RELATED: Holiday baking with kids makes delicious tradition
Cardamom Syrup
First, make cardamom sugar: Mix crushed cardamom seed or ground cardamom (¼-2 teaspoons, to taste) with 2/3 cup organic cane sugar. Place on a baking sheet and allow to dry at least eight hours, or overnight.
To make the syrup, bring 2/3 cup water to gentle boil. Add 2/3 cup cardamom sugar and stir until sugar is completely dissolved. Allow to cool completely before pouring into a bottle. Store in refrigerator. Makes one gift bottle of syrup.
Infused Sugars
Gifts of infused sugars are both simple and impressive. And they come packed with the flavors and smells of the holidays, from cinnamon and citrus to rosemary. The sweet and savory sugars can be used in holiday baking or as sweet rims on cocktail glasses. Or simply sprinkle on fruit or sugar cookies.
Spices and herbs lose flavor over time, so make sure to use the freshest possible. After mixing, spread sugar mixes on a baking sheet and allow to air dry for at least eight hours. Pack in airtight containers and give, give, give. The following are a few of Nacke's holiday favorites. Her formulas are extremely forgiving, so add more or less to taste, to ¼ cup sugar:
Cinnamon: ½-1 teaspoon ground cinnamon
Chili sugar: ½ teaspoon dried chili powder or ground dried chili
Citrus sugar: grated zest of ¼ orange, lime or lemon grated directly over the sugar
Clove: ¼ teaspoon ground clove
Ginger: 1-2 teaspoons ground ginger
Nutmeg: 2-4 teaspoons grated or ground nutmeg
Star anise: ½ teaspoon ground star anise

Valley of the Sun Orange Curd
Zest of one large orange
1 cup organic cane sugar
¾ cup fresh squeezed orange juice
9 egg yolks
12 tablespoons pasture-raised butter, sliced into tablespoon pieces
In a medium stainless-steel saucepan, add orange zest and sugar. Use fingers to rub the zest into the sugar to tint the sugar and release the essential oil. Add orange juice and eggs. Place saucepan on turn stovetop burner to medium heat, stirring well with a wooden spoon.
Work the sides and bottom of the pan until the curd mixture is thick enough to coat the back of the wooden spoon, five to seven minutes. Remove saucepan from heat and add the butter, one piece at a time. Stir with a wooden spoon until the consistency is smooth. Pour into sterilized glass jars, placing lids to prevent skin from forming.
Refrigerate until firm and chill in the refrigerator for up to one week. Makes about two large, or four small canning jars.
RELATED: Easy family meals from Scottsdale's "Crock-Pot Girl" Jenn Bare.