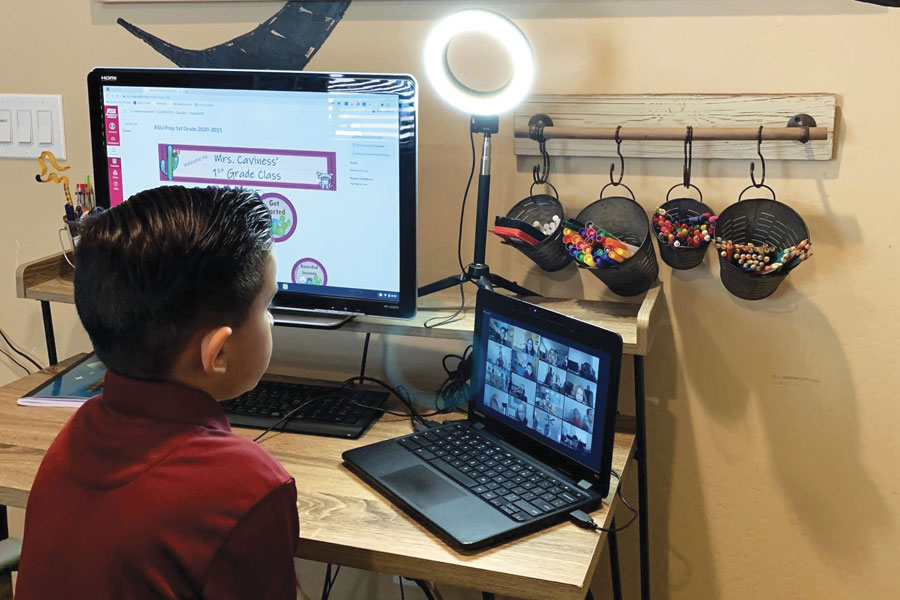 Listings are continuously being updated for 2022 based on information we collect directly from camps through an online questionnaire or research from camp websites. Please verify all information with the camp as errors are possible. 

Listings that include a logo represent organizations whose support allows Raising Arizona Kids to continue to provide free local resources and information to Arizona families. Please thank them when you call or visit!
---
     Phoenix Camps    
ASU Prep Digital
asuprepdigital.org
Summer 2022: Grades K-12 can take Reading Refresh or Math Refresh. Grades 6-12 can also take any course in our online course catalog. High school students can earn college credit in concurrent courses. Starts June 1. Enroll by May 6. See summer web page for July dates. Tuition is free to full-time ASU Prep students and Arizona private school students registered as part-time ASU Prep Digital students. Public school student tuition may vary; please see asuprepdigital.org/summer for details.
---
Bayer Summer Advantage Camp
23555 N. 67th Ave., Glendale. 623-362-3700 • bayerschool.com
Campers ages 3-11 will enjoy academic refreshment, computer animation, coding, talent shows, themed activities and games, splash and water days, themed afternoon snacks, and Friday adventure bus for older students. Limited enrollment and enhanced facility sanitation to keep campers healthy. June 13-July 22. Half and full days available, extended care available. Full day rates begin at $300.
---

Legacy Traditional Schools
Valley wide locations. 480-270-5438 ext. 1812 or legacytraditional.org/summer
Legacy Summer. Summer should be as enriching as it is fun. At Legacy Summer, campers explore, play and grow all summer long. Hands-on, engaging activities allow for extended school year learning in a fun, activity-based environment. Themes include Down on the Farm, Messy Science, Dinosaurs Mania, Shark Attack, Island Adventures, Natural Disasters, Wonders of the World, and more. Snacks included! Week long sessions May 31-July 22, dates vary by location. $175 per session/week plus $45 family registration. Sibling discounts available.
---

Phoenix Union Summer Freshman Academy & Summer School
602-764-0020 • phoenixunion.org/summerschool
Success in high school begins with success as a freshman. Success as a freshman begins with Phoenix Union's FREE Freshman Academy.
---
---
All Around Learning Center
Camps hosted at Uptown Jungle. Chandler  • 480-833-7338 • allaroundmath.com
Ages 5-11. LEGO Mindstorms Robotics, Computer Game Design with KODU, pilot drones, water rockets, hands-on engineering projects, free activity time at indoor adventure park. May 31-July 8. $155-$295. Extended hours available.
---
Arizona State University SummerUP Camps
4701 W. Thunderbird Road, Glendale • 602-543-6002 • summerup.asu.edu

Grades 8-12 (entering). Calling all aspiring young entrepreneurs! The Thunderbird Global Entrepreneurship Virtual Summer Program brings together high school students to develop their own business opportunities.
---
AZ OnTrack Summer Camp
Statewide programs • (602) 542-4331 •

azontrack.com/families
Grades pre-K-12. Launched by the Office of the Governor Doug Ducey, AZ OnTrack Summer Camp will enrich, advance, and connect students in Arizona with Camp opportunities that will help them enter the 2022-23 school year with greater excitement and confidence. Programming will combine learning with enrichment and adventure, and will be offered FREE for students.
---
Lindamood-Bell Learning Processes.
480-922-5675 or lindamoodbell.com

Ages 5-adult. One-to-one intervention for reading, comprehension, and math. Personalized instruction using evidence-based programs. Student progress updates, parent practice sessions and professional collaboration/school visits.
---
Phoenix Country Day School
3901 E. Stanford Drive, Paradise Valley. 602-955-8200 or pcds.org/summer

Grades K-8. Campers experience academic enrichment, art, technology applications, theater, and athletics. Half or full-day sessions June 13-24, June 27-July 8, July 11-22. Extended care available.
---
Mad Science Lab
2701 E. Thomas Rd, STE I, Phoenix, AZ 85016 • nephoenix.madscience.org
Science Explorations: Full-Day Camp. May 30-June 3. Discover how to send secret messages to your friends using special codes. Learn about your surrounding environment and how science helps us protect our planet. Explore how Newton's laws are at work in your favorite sport; and become a young astronaut while exploring the mysteries of the solar system!
---
     Flagstaff/Southern Arizona Camps    
---
     Tucson/Northern Arizona Camps    
Summer Camps 2022. All acmps are from 8:30 am- 12:30 pm. $155 for nonmembers. $125 for CMT|OV members.
Dino-mite Dinosaurs. May 31-June 3. Ages: 4-6
Artistic Impressions. June 6-10. Ages: 7-10
Astounding Astronomers. June 13-17. Ages: 4-6
Outside the Lines. June 20-24. Ages: 7-10
Amazing Anatomy. June 27-July 1. Ages: 4-6
Brick Builders. July 5-8. Ages: 7-10
Mystical Kiddos. July 11-15. Ages: 4-6
Kindergarten Kiddos Bilingüe. July 18-22. Ages: 4-6
Kindergarten Kiddos. July 25-29. Ages: 4-6
---
Summer Engineering Academy. Grades 10-12 and graduated seniors, who want to learn more about engineering.
VIRTUAL CAMP DATES & THEMES
Engineering Our Earth (and beyond!): June 13 – 15 | $150
Engineering Our Technology: June 20 – 22 | $150
Engineering Our Health: June 29 – July 1 | $150
Engineering Our Society: July 18 – 20 | $150
NEW FOR 2022! "DAY AT SEA" IN-PERSON DAY PROGRAMS
June 17: Electrical & Computer Engineering and Optical Sciences & Engineering | $50
June 24: Environmental Engineering and Software Engineering | $50
June 27: Mining Engineering and Civil Engineering | $50
July 14: Biosystems Engineering and Materials Science & Engineering | $50
July 15: Aerospace & Mechanical Engineering and Biomedical Engineering | $50
July 22: Systems & Industrial Engineering, Architectural Engineering, and "Day at SEA" Capstone Activities
---
RELATED:
For information about being part of our of our online summer camps directory, contact us.