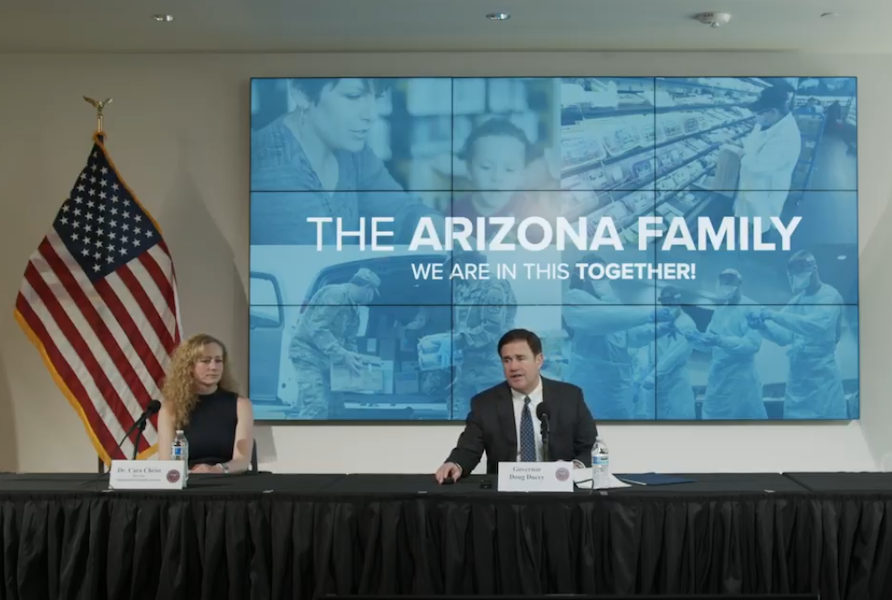 Not much will change about how we're living and working when April 30 arrives. The original date set for relaxing pandemic-imposed stay-at-home orders has now been extended through May 15.
A "gradual, responsible and balance approach is what we will continue to do going forward, step by step," Ducey said during an afternoon press conference broadcast on YouTube.
He and Dr. Cara Christ, director of the Arizona Department of Health Services, also jointly announced a "testing blitz" that will begin this weekend for anyone who thinks they are infected or has recently been exposed to COVID-19.
What will change?
A voluntary, partial reopening of retail establishments will begin on Monday, May 4, Ducey said, with safety guidelines in place. "We've learned a lot from our big-box operators (Costco, Target, Fry's, Safeway, etc.) about social distancing [in retail environments]."
He expects restaurants to begin to expanding dine-in options "some time in May," based on CDC guidelines. "We are aspirational at this time," he said. "Best-case scenario … would be May 12."
But dining out will not go back to normal.
"I like to think of it as a 'temporary normal,' " Ducey said. "It will be a different experience, a temporary experience with food service workers wearing masks. They will likely inform you that they've just washed their hands. They might ask you how you would like your food delivered, etc."
A previous order will allow elective surgeries to resume May 1 at 1,090 authorized hospitals and outpatient surgery centers, he said. Dental offices also will reopen May 1.
What won't change
"What won't change is the new habits we all have that are making a difference and are just good manners and good social etiquette," Ducey said, referring to the litany of protective measures we all can now recite by heart: Wash your hands. Don't touch your face. Cover your mouth when you cough. Wear a mask in public. Practice social distancing. Stay home if you're sick.
People who are able to continue working from home should do so.
The goal is "no unpleasant surprises going forward," Ducey said. "We'll put public health first. It will be a step by step approach, with ongoing announcements as data informs our decisions. We'll give citizens and businesses time to adjust."
Ducey promised continued clarification next week. Find additional details on the current guidelines at arizonaconnected.org
For information on virus testing locations, visit azhealth.gov/testingblitz