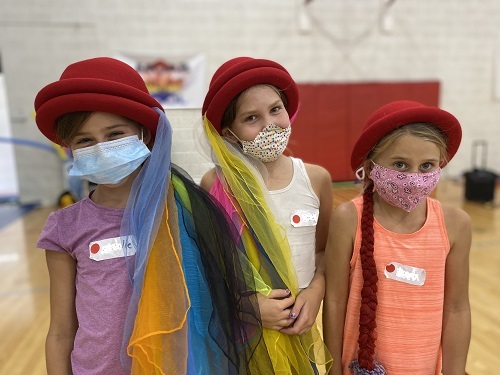 Listings are continuously being updated for 2022 based on information we collect directly from camps through an online questionnaire. Please verify all information with camps directly.

Listings that include a logo represent organizations whose support allows Raising Arizona Kids to continue to provide free local resources and information to Arizona families. Please thank them when you call or visit!

---
     Phoenix Camps    
Ballet Arizona
2835 E Washington St., Phoenix. 602-381-0188, school@balletaz.org or balletaz.org
Ages 4-12.  This is a fantastic opportunity for children to grow their confidence and expand their knowledge under the guidance of highly experienced instructors. No previous ballet experience necessary. Sessions are 2 or 4 weeks from June 13-July 8, 2022. Classes are scheduled in the afternoon and early evening. Pre-registration is required. Deadline to register is May 22, 2022.
---
Childsplay
900 S. Mitchell Drive, Tempe. 480-921-5722 or childsplayaz.org/summer

Ages 4-17. Campers enjoy themed classes, Mainstage Productions at the TCA, Workshops, Stagecraft/Crew opportunities, and Teen Internships. Some of the types of themes include Hogwarts, Freaky Friday, Encanto, Shakespeare, Roblox, Pete the Cat, and Thor & Loki. One-week and multi-week classes. Full-day classes for ages 6+ and half-day classes for ages 4-6. Some select online class options. May 31-July 29. Extended care available. $135 and up.
---
Summer Company 2022. Ages 4-18. From Fine Arts camp to Musical Theatre camp, students will receive professional instruction in theatre, music, and dance. Each camp culminates with a full production! 3-week session: July 11-July 30. Tuition range: $350 – $800. Extended camp available. Join the Do Re Mi family today!
---

East Valley Children's Theatre
4501 E. Main St., Mesa. 480-756-3828 • evct.org
Summer Camps at EVCT. Ages 5-17. Musical Theater Camp builds teamwork and skills in singing, dancing and acting. Theatre Workshops focuses on performance skills and techniques, and collaboration. Imagination Theatre Camp is an introduction to performing on stage, listening, focusing, acting and movement skills. Four Day Actor Intensive emphasizes techniques and skills in acting. Masks are currently required of staff and kids but policy could be lifted by summer. Limited enrollment and smaller-than-usual activity groups. Half- and full-day options May 31-July 15. $210-$340/session; extended care available.
---
Fountain Hills Theater
11445 N Saguaro Blvd. Fountain Hills 480-837-9661 x3 or www.fhtaz.org

Performance Academy Camps: Campers ages 8-16 will experience the magic of musical theatre alongside professional teaching artists who provide real-world training in acting, singing and dance. Fun and interactive classes in these three disciplines will help build their skills & self-confidence and culminate with 2 performances. "Disney's Beauty and the Beast Jr": ages 8-16, June 6-24 9a.m.-3p.m. A 2-week Tech and Production camp will also be offered for ages 12-16  June 13-24 from 12p.m. to 3p.m. for behind the curtain interests. "The Grunch": ages 8-16, July 5-22 from 9a.m.-3p.m. A 2-week Tech and Production camp will again be offered for ages 12-16  July 11-22 from 12p.m. to 3p.m.Imagination Theater Camp: ages 5 to 9   June 6 – 24   12p.m. to 3p.m. July 5-22 9a.m.-12p.m.  These flexible half-day camps feature singing, dancing, and acting. On Camera Acting Camp: ages 10 to 16 June 27 – July 1 9a.m-3p.m. and July 25 – 29   9a.m-3p.m.
---
Paige Productions Youth Theater
13001 N Fountain Hills Blvd, Fountain Hills. • 480-375-8058 • www.paigeproductionsAZ.com 
Paige Productions Theater is a refreshing theater alternative in the East Valley. Students learn acting, singing, & dancing from an award-winning theater instructor. Owner/Artistic Director, Paige Beckman is a two-time ariZoni-winning director and music director who owns Paige Beckman Music Studio, and has taught theater in Fountain Hills for more than a decade. Join us for our exciting 2022 camp musicals, including Annie Kids, Disney's The Jungle Book Kids, & Aladdin. Each of these shows feature a final performance for family & friends. Additional 2022 camps feature acting, improvisation, auditioning, and skit writing. One & two-week options, something for every skill level. 13001 N. Fountain Hills Blvd, Fountain Hills. 9:00 am-3:00 pm. Camps vary, approx $200-$400.
---
Metropolitan Youth Symphony
977 E. Broadway Road, Mesa. 480-456-9501 • azmys.org

Ages 8-17. Orchestra ensembles, band ensemble, music electives: theory, guitar, jazz combo, ukelele, composition, Yoga for Musicians, Movement in Music, and more.
---

Phoenix Conservatory of Music
1316 E Cheery Lynn Rd, Phoenix. 602-353-9900 • pcmrocks.org/learn-to-play/summer-camp

Ages 5-18 learn to play and read music, experiencing different styles; plus music games, songwriting and beatmaking, make-and-take instrument activities. Themes include College Prep Bootcamp (free!), Beats by Girls (free!), Drum Line Readiness, Piano Pals, Guitar Pals, Beat Making, All About Strings, Music Around the World, Camp Rock 4 Kidz, and Camp Rock. 9 a.m. to noon (ages 5-9), 9 a.m. to 3 p.m. (ages 7-10 and 9-13), 10:30 a.m. to 4:30 p.m. (ages 14-18). Choose from three, four- and five- day sessions June-July. Extended care available. $45-$120/session.  Participants should pack water and lunch.
---
Phoenix Youth Circus Arts
Emerson Elementary School, 915 E Palm Lane, Phoenix. phxyouthcircus.org/summercamp
Ages 7-16. Join the circus this summer! At Phoenix Youth Circus Arts summer day camp, kids will learn juggling, balancing, acrobatics, aerial arts, and clowning.  Kids can attend either or both one-week sessions of camp in June. Each Monday through Friday session concludes with a show for family and friends. Circus arts provide the ultimate blend of fitness, creativity, and fun! Every kid regardless of age, gender, background, or body type can find things they love to do and share with others. Campers learn from experienced coaches and best of all, they surprise and delight themselves with what they can do! June 6-10 and 13-17 $225/session. Discounts available.
---
Arizona School of Classical Ballet
20820 N. 25th Place, Suite 100-112, Phoenix. 602-494-3400 • azballet.com

Ages 3-18. Ballet technique, pointe class, character dance, flamenco dance, contemporary dance, jazz, musical theater classes, ballet history.
---
Art and Sol Performing Arts
7901 N. Central Ave., Phoenix. 480-540-9208 • artandsolprogram.com

Ages 6-13. Campers will be singing, dancing, acting and while learning how to be confident on and off stage.
---
Ages 14-18+. This week-long camp for high school students (grades 9-12) and college transfers will give attendees a peek into life as a major in the performing arts. June 5-10.
---
Ages 10-17. Campers learn acting, scene study, improvisation, music theory, singing and dancing, while building self-esteem, teamwork skills, and creative potential. 9:30 a.m. to 5:30 p.m, June 13-17. $600.
---
Center Stage Academy
2335 S. Lindsay Road, Suite 102-A, Gilbert. 480-370-1784 • centerstage.academy

Ages 5-18. Vocal training, singing activities, acting coaching, improv activities, casting and scripting, theater jazz choreography, end-of-week production.
---
Chandler Center for the Arts
250 N. Arizona Ave., Chandler. 480-782-2680 • chandlercenter.org/youth-programs/camp-kids

Ages 7-14. Campers learn about auditioning, stage blocking, character analysis, choreography and more. June 6-July 8. $180-$575.
---
Chandler Children's Choir 
1251 E. Southern Ave., Tempe. 480-699-9846 • chandlerchildrenschoir.org/Summer-Academy

Vocal instruction in a fun atmosphere. Each one-week session ends in a performance.
---
CYT Phoenix
Locations in Phoenix and Scottsdale • 480-310-0366 • cytphoenix.org/camps

Ages 5-18 . Campers will explore singing, dancing and acting skills in a weeklong day camp, culminating in a showcase for families and friends. June 11-July 22. $300+/session.
---
Dance Theater West
3925 E. Indian School Road, Phoenix. 602-840-3883 • dancetheaterwest.com

Ages 10-18. Ballet, pointe, jazz, partnering, choreography, variations, and more.
---
Desert Foothills Theater at Holland Center
34250 N. 60th St., Scottsdale. 480-488-1981 • dftheater.org/education-home

 Ages 5-14. Acting, singing, and dancing, ending with a performance. 9 a.m. to 3 p.m. Extended care available.
---
Desert Stages Theatre
Scottsdale location TBD. 480-483-1664 • desertstages.org/summer-camp

Ages 5-12. Hands-on theatrical experience including auditions, staging, and choreography. A typical day includes voice, dance, acting, games, and arts and crafts.
---
East Valley Yamaha Music School
3160 N. Arizona Avenue, Suite 102, Chandler. 480-926-4441 or evyamahamusic.com/summer-camps

Ages 6-12. Piano, singing, music theory, instruments, dancing, acting, production, rhythm, percussion.
---
Greasepaint Theatre
Stagebrush Theatre, 7020 E. Second St., Scottsdale • 480-949-7529 • greasepaint.org
Ages 6-13 will build skills in acting, dance and vocals during one of four camps June 6-July 22. Taught by Valley professionals. Scholarships, sibling discount, need-based financial assistance.
---
Music Together in Phoenix
3241 E Shea Blvd, Phoenix. 602-363-8202 or musictogetherinphx.com

Developmentally appropriate activities will include singing, dancing, creative movement, and instrument play, with silliness and lots of creativity.
---
Musical Theatre of Anthem
42201 N. 21st Drive, Suite B100, Anthem. 623-336-6001 • musicaltheatreofanthem.org
Ages 6-16. Campers will learn dance, tap, voice, acting, improv, and other performing arts skills. June 6-July 30. $375, scholarships available.
---
Phoenix Theatre Company
1825 N. Central Ave., Phoenix. 602-254-2151 • phoenixtheatre.com/engage-learn/summer-camp

Campers learn collaborative skills while putting together a different musical revue each week based on popular musicals and contemporary hits.
---
School of Rock
Gilbert and Scottsdale. schoolofrock.com
School of Rock music camps offer an incredible selection of experiences, from beginner music camps to intermediate and advanced sessions. Students will expand their musical and life skills in a fun, hands-on environment. Our music camps often include performance boot camps, artist-themed camps, songwriting and recording, and more — there's a camp for every interest and skill level. Most music camps end with an epic live rock show performed by the campers!  May 30-July 29, ages 7-18, $500/session
---
Stage Door Youth Theatre
Goodyear location TBA. 623-282-4552 • stagedooryouthaz.com

Ages 7-17. Students will learn about improvisation, pantomime, auditions, dancing, singing, memorization, a little bit of technical theater, and more.
---
StringPlay
602-999-3735 • stringplaycamp.com

Ages 12-18. Students will learn new tunes and skills through live online classes each day, participate in a community of like-minded students through discussions and camp games and develop the necessary skills for a virtual end-of-camp jam session.
---
Ages 3-18. Theater Works summer theater camps offer something for all ages and skill levels, indulging just-for-fun campers and those who want to hone theater skills. Themes range from Broadway to Superheroes.
---
Stage Dreams Youth Theater
8542 W. Deer Valley Road, Peoria • 623-252-9001 • stagedreams.net
Grades K-12 build life skills — confidence, communication and collaboration — while building friendships through the arts.
---
SummerWorks Camp
10580 N. 83rd Drive Peoria. 623-398-6780 or https://theaterworks.org/summer-works-camps/
Ages 7-17. SummerWorks programming is for all ages and skill levels, from just-for-fun campers to those looking to hone their theater skills. $450/session. Early bird and sibling discounts available. Extended care available. June 6-17 and June 20-July 1. 
---
The Be Kind People Project
bkpp.org/summer

Be Kind Summer Camp. Ages 5-13. Experience dance, visual arts, spoken word/song writing, digital arts, and more. Programs Valleywide.
---
Tutu School of Scottsdale
6969 E. Shea Blvd., Suite 165, Scottsdale. 602-734-9950 • tutuschoolscottsdale.com

Ages 3-8. Ballet, decorating costumes,  and history of ballet. Favorites include "Swan Lake", "Sleeping Beauty", "The Firebird", and "Cinderella". No prior ballet experience required.
---
Valley Youth Theatre
525 North First Street, Phoenix. 602-253-8188 • vyt.com

Ages 5-8. A positive, supportive place for young people to learn and practice fundamental theater techniques, build self-confidence and grow as critical and creative thinkers – all while having fun!
---
     Flagstaff/Southern Arizona Camps    
---
     Tucson/Northern Arizona Camps    
Arts Express Theatre
5870 E Broadway Blvd #214, Tucson, AZ 85711 • 520-319-0400 • arts-express.org
This summer AETs Triple Threat Day Camps will produce TWO youth musicals. Young performers will also learn stagecraft and perform before a live audience. Ages 8-14. $300 a week for 4 weeks/total cost: $1200 per session (with a 15% discount before 3/31/22)
Disney's The Jungle Book Kids. June 6– June 30. 9 a.m. to 4 p.m.
Dahl's James and the Giant Peach, Jr. July 5 to July 29. 9 a.m. to 4 p.m.
---
Ballet Rincon Academy of Dance
10544 E. Seven Generations Way Tucson, Arizona 85747 • 520-574-2804 • ballet-rincon.com
Summer Intensive: (Advanced & Primary Training Level 1-10). June 13 – July 1.
Designed to give dancers immersion-level camp training, giving each student a fun, tailor-made way to help them jump start their upcoming dance season, each Program offers the developmentally-designed American Ballet Theatre (ABT) National Training Curriculum® with *multi-discipline content, virtual dance company experience for our Advanced Training Level 6-10 students. (*Level appropriate content may include jazz, modern, repertory, and body conditioning.)
Summer Preschool Programs. June 13- July 1.
PreSchool Movement Workshop. Ages 3-4. A series designed around a central theme and made to enhance gross motor skills and freestyle movement.
Preschool Fairy Tale Ballet Workshop. Ages 4-5. This magical young children's program features BR's comprehensive PreBallet curriculum instruction intertwined with cherished classical ballet stories. Using the structure of the classical ballet class combined with the fantasy of fairy tales, basic ballet steps and French ballet terms are developed naturally within the young dancer's vocabulary. In addition, this workshop includes fairy tale story time and pantomime, creative choreography and themed projects.
---
Drama Kids International
Northwest Tucson, 3301 W. Overton Road • East Tucson, 6188 E Pima Street • Rita Ranch Area, 9400 S Atterbury Wash Way • 520-304-2876 • dramakids.com
Drama Kids' extensive and comprehensive curriculum was designed by educators, and is the result of more than 35 years of experience and continuous development. While kids are learning and developing new creative thinking styles and skills, they are also developing other important life skills, including public speaking. ALL Drama Kids Tucson summer camps are guaranteed to be both educational and FUN!
---
Summer Day Camps. Prepaid tuition is required.
Princess Camp. June 27-30 & July 25-28
Encanto Dance Camp. June 27-30 & July 11-14
Sing Dance Camp. July 18-21
Cheer & Pom Camp. July 25-28
Christmas in July Days. July 15, 22, 29
Flippin Fridays. July 15, 22, 29
---
Singing, Dancing, Acting and Audition Prep. All Inclusive Performing Arts School.
Encanto: June 20-24. Ages 7-17. 9 a.m.to 4 p.m. $200.
Arendelle and Beyond:​ June 27-July. Ages 3-7. 9 a.m.to Noon. $125.
Skill building for Acting, Singing, Dancing. & Audition Prep: June 27 – July 1. Ages 8-17. 1 to 4 p.m. $125.
Contemporary Broadway Workshop: July 11-15. 9 a.m. to 4 p.m. Ages 8-17. $200.
---
Summer Fine Arts Camp. June 6th – July 8th. Ages 5-6 from 9 a.m. to 1:30 p.m. & Ages 7-18 from 9a.m. – 3p.m., Time Travel campers, will travel the decades and explore centuries past with famous artists and learn to navigate modern day graphic designs through the digital arts program.  $2000 ($250 off with code: SFAEARLY through May 21st).
---
Youth Circus Camp. June 6-July 15. Ages 7-15. 9 a.m. to 4 p.m. $250.
Advance Circus Camp. July 18 – July 29. Ages 10-17. 9 a.m. to 4 p.m. $500.
---
Tucson Arizona Boys Chorus
5770 E. Pima Street, Tucson, AZ 85712 • 520-296-6277 • tabc@boyschorus.org • boyschorus.org
June 13-17. A week of adventure, including singing, rodeo roping, acting, stagecraft, and much more. Our camp is offered in two sessions based on age with three half days of camp, and two full days. Camp locations include the TABC Chorus Hall, Reid Park, and a local theatre. $199. $169 for current Chorus families. ($160 if registered before April 30). Family and referral discounts available.
Rover Session. Boys aged 6-9. Monday – Wednesday 9 a.m. to 1 p.m. Thursday – Friday 9 a.m.- to 4 p.m.
Adventurer Session. Boys aged 10-14. Monday – Wednesday Noon to 4 p.m. Thursday – Friday 9 a.m.- to 4 p.m.
---
Shine! Performing Arts Summer Camp. Sing, dance, and perform! Shine is an in-person day camp, with protocols in place for safety. Boys and girls ages 6-12. Each week features different material. Sign up for one or both weeks! Monday-Friday, 9 a.m. to 4 p.m. Drop-off as early as 8:30 am. $290/week. Sibling, multi-week, and early bird discounts available!​ ​Week One: June 6-10. FULL! Waiting List Only. Week Two: June 13-17.
---
Offering dance instruction in Mexican Folklorico, Hip Hop, Ballet, Jazz & Tap. Ages 3 to young adult and all levels of experience. Viva is committed to immersing students in Tucson's strong and beautiful Hispanic culture.
---
RELATED: