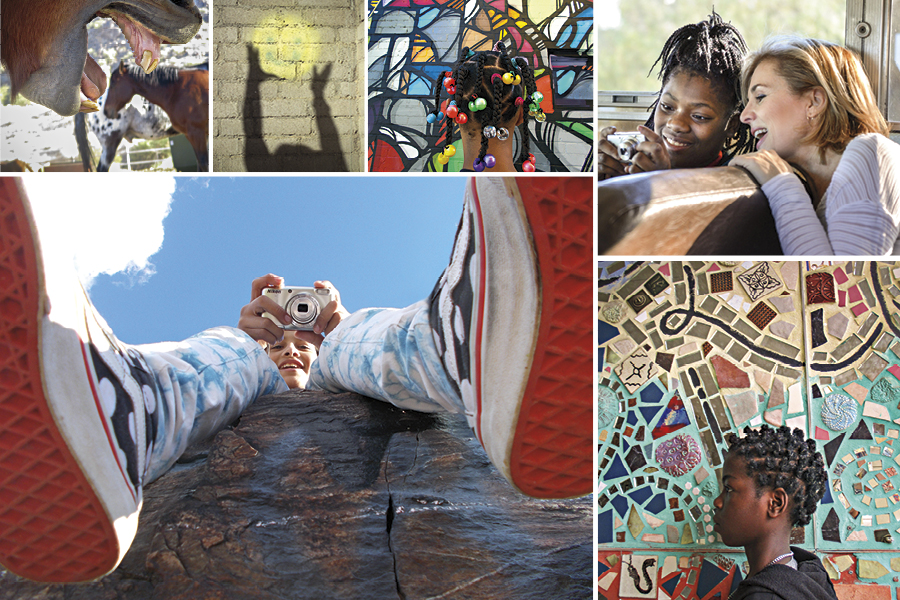 When kids experience trauma, they often disconnect — from the world and themselves.
Karen Shell, a commercial photographer and founder of the nonprofit Kids in Focus, understands the challenges of a difficult childhood. It's why she's been volunteering and working with at-risk kids since her early 20s, hoping to make a difference.
"These kids would have it [easier] if poverty is all that they were dealing with," Shell explains. "It's what often accompanies poverty: abuse and neglect. I want them to know there are choices and opportunities."
For two decades, Shell coordinated Picture Day, where photographers, hairstylists and a photo lab came together to give up to 1,000 kids in Phoenix and Tempe (many of them homeless) a free packet of school portraits they could cherish.
Through this project, Shell became particularly close to a class of fourth graders at Children First Leadership Academy in Phoenix. After mentoring them for five years, she came up with the idea of getting kids behind the camera.
When Shell talks about Kids in Focus, her eyes light up, and her positive energy can't be contained. "This is an incredible opportunity to teach life lessons," she explains. "Photography is the draw."
The way Shell sees it, Kids in Focus, which began five years ago, helps at-risk Phoenix kids form connections, and in so doing, transforms their lives. Kids in the program are paired with photographer mentors who volunteer their time.
Shell says she's seen the program dramatically boost kids' self-confidence and sense of self-worth. Kids in Focus runs a variety of programs in partnership with Children First Leadership Academy, local Boys & Girls Clubs and Arizona Friends of Foster Children Foundation. Kids get volunteer photographer mentors for three-month after-school programs, monthlong camps, or one-day experiences.
The three-month program features a curriculum, a field trip, an exhibit and a hardcover book for each child. Students must apply to get into the program ("So that they value it," explains Shell), and they must agree to respect themselves and others and to keep their grades up.
When asked if any kids have ever had to be removed from the program, Shell replies, "Never. I had one girl who was threatened by her school principal to be taken out of the program after an incident on the bus for which she had refused to accept responsibility. She immediately apologized and changed her attitude and behavior to stay in Kids in Focus. She went from a troublemaker to a leader. These kids want something positive in their lives."
Once accepted, the kids are given a camera to use for the duration of the program and shown how to look at the world around them with a new perspective — both literally and figuratively.
"We don't teach them the technical aspects of photography. We take them through the process with no lecturing whatsoever," says Shell. "It's experiential. The kids are given prompts like 'What is beauty in your community?' We ask them to explore a four-block area and capture what is beautiful in that space."
"Some resist at first," Shell explains. "Eventually the kids start paying attention, and becoming aware."
Opening night
At the conclusion of each three-month program, Kids in Focus hosts a grand and glitzy opening night. It's free for the public to attend, because the goal is to get the maximum number of attendees and make the kids feel like superstars.
Past opening nights have been held at the Burton Barr Library, the Children's Museum of Phoenix and the Arizona Science Center. Shell is in the process of selecting a venue for the 2019 opening night, to be held in the spring.
"Kids enter the program disconnected, withdrawn, and unable to express themselves," says Shell. "On opening night, they are tall, proud, and don't have a care in the world. They feel like movie stars. These kids light up, because for the first time for many of them, that night they don't feel invisible."
Get involved
Kids in Focus is always looking for photographer mentors and volunteers for administration, marketing and program coordination. Visit kidsinfocus.org