In honor of Asian American & Native Hawaiian/Pacific Islander Heritage Month, Maricopa County Library District has handpicked books celebrating the history, heritage, and culture of this community. Looking for more? Check out the library's Featured Collection at mcldaz.org for even more titles! 
---
PICTURE BOOKS
Punky Aloha by Shar Tuiasoa
Punky uses her grandmother's magical sunglasses and the power of aloha to overcome her shyness.
Everyone Loves Lunchtime but Zia by Jenny Liao, Illustrated by Dream Chen
Zia, a Chinese-American girl, grows to appreciate the traditional dishes her parents prepare for her and finds a way to share her lunch with her classmates.
---

ELEMENTARY ("JUVENILE")
Adrift by Tanya Guerrero
The resilience of two Filipino girls is tested when one of them is lost at sea and washes up on a deserted island while the other remains at home, holding on to the belief that her beloved cousin is still alive.
Finally Seen by Kelly Yang
Lina faces a tough transition as she leaves her grandmother's home in Beijing for life in America with her parents and little sister. Just when she feels the most out of place, an opportunity arises for her to make a difference in her school and community.
---
TEEN
Throwback by Maurene Goo
A Gen Z Korean American girl gets thrown back in time to the '90s, with regressive attitudes, lame tech, her 17-year-old mother, and a sweet, mysterious football player named Jamie.
While You Were Dreaming by Alisha Rai
Sixteen-year-old Indian American Sonia, who has undocumented family members, goes viral after saving her crush James' life.
---
ADULT
Yellowface by R. F. Kuang
Bestselling sensation Juniper Song is not who she says she is. She didn't write the book she claims she wrote, and she is most certainly not Asian American. As she races to protect her secret, she discovers exactly how far she will go to keep what she thinks she deserves.
Meet Me Tonight in Atlantic City by Jane Wong
Jane Wong's memoir explores family, food, girlhood, resistance, and growing up in a Chinese American restaurant on the Jersey shore.
2022 LIST
---
PICTURE BOOKS
Eyes That Speak to the Stars by Joanna Ho, Illustrated by Dung Ho
When a friend at school creates a hurtful drawing, a boy turns to his family for comfort. Inspired by the men in his family, he recognizes his own power and strength from within.
Mommy's Hometown by Hope Lim, Illustrated by Jaime Kim
A young boy loves listening to his mother describe the place where she grew up, a world of tall mountains and friends splashing together in the river. Mommy's stories have let the boy visit her homeland in his thoughts and dreams, and now he's old enough to travel with her to see it for himself. Sensitively pitched to a child's-eye view, this vivid story honors the immigrant experience and the timeless bond between parent and child, past and present.
---
ELEMENTARY ("JUVENILE")
Finding Junie Kim by Ellen Oh
Motivated by an act of racism at school, this story—based on true events—follows the coming-of-age of a girl as she learns about her ancestral heritage and her grandparents' experiences as lost children during the Korean War.
A Wish in the Dark by Christina Soontornvat
A Wish from the Dark follows two children: Pong, a boy who escapes the prison he was born in, and Nok, the prison warden's daughter who has become a warrior. This compelling fantasy looks at issues of privilege, protest, and justice. 
---
TEEN
The Color of the Sky is the Shape of the Heart by Chesil, Translated by Takami Nieda
In witty and brutally honest vignettes, and interspersed with old letters from her expatriated family in North Korea, Ginny recounts her adolescence growing up Zainichi, an ethnic Korean born in Japan. Inspired by her own childhood, author Chesil creates a portrait of a girl who has been fighting alone against barriers of prejudice, nationality, and injustice all her life.
American Betiya by Anuradha D. Rajurkar
Eighteen-year-old Rani, a budding photographer, grapples with first love, family boundaries, and the complications of a cross-cultural relationship.
---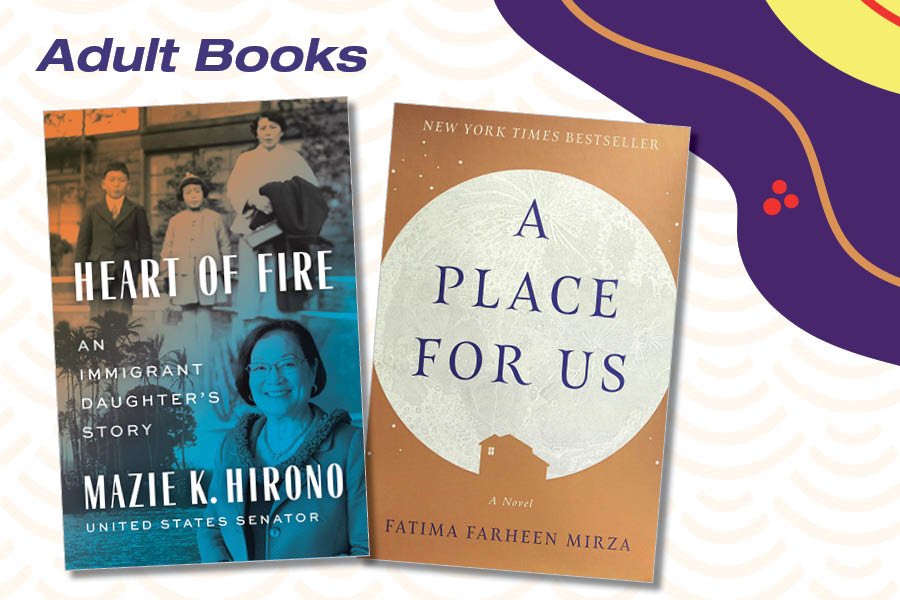 ADULT
Heart of Fire: an Immigrant Daughter's Story by Mazie K. Hirono
The true story of U.S. Senator Mazie Hirono. Raised poor on her family's rice farm in rural Japan, Hirono was seven years old when her mother left her abusive husband and sailed with her two elder children to the United States. This is a moving account of a woman coming into her own power over the course of a lifetime in public service, and of the mother who encouraged her immigrant daughter's dreams.
A Place for Us by Fatima Farheen Mirza
As an Indian wedding gathers a family back together, parents Rafiq and Layla must reckon with the choices their children have made. A Place for Us takes us back to the beginning of this family's life—from the bonds that bring them together to the differences that pull them apart.