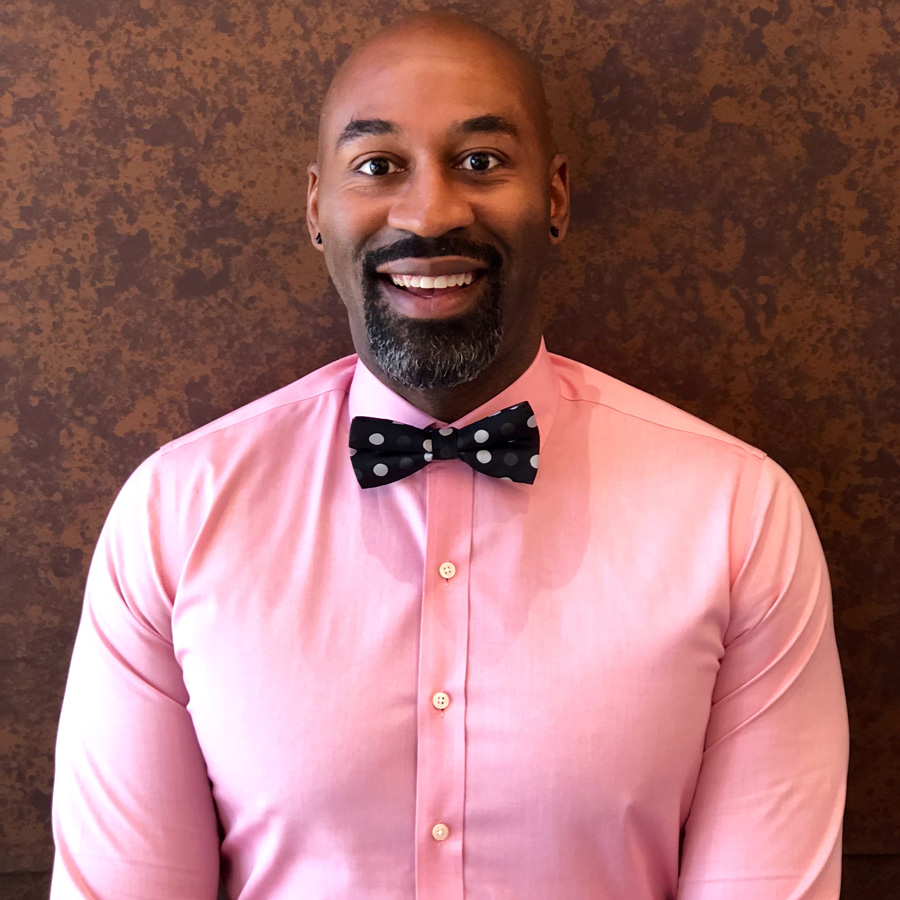 Kareem Neal, a self-contained special education teacher at Maryvale High School in the Phoenix Union High School District, is the 2019 Arizona Teacher of the Year. The Arizona Educational Foundation named Neal at its annual awards luncheon at the Arizona Biltmore on Thursday, Oct. 25.
Neal, who has taught at Maryvale High School for 12 years, says he grew up in New Jersey and credits his mother and grandmother for nurturing his love of learning. "There is no job like teaching," he said during his acceptance speech. "This is my 22nd year, and I feel like I have another 22 years in me."
Neal says he has been active in the Red for Ed movement this year and will spend his time as Arizona Teacher of the Year talking about teacher pay and the importance of teacher retention. He's seen too many younger colleagues leaving the profession because of low pay. He's also passionate about connectivity — making sure students love coming to school and feel part of a cohesive classroom and a supportive school community.
He also spoke about his dedication to students with special needs and their contributions to school campuses. "I think it's time we recognized how these students enrich" student populations, he said.
Neal was among 76 applicants for the Arizona Educational Foundation's 2019 Teacher of the Year. As the winner, he will receive a $15,000 cash award and enjoy one week at Space Camp in Huntsville, Alabama. He will also compete for National Teacher of the Year and make more than 100 appearances in 2019 advocating for teachers and public education. Teachers of the Year also get professional training in public speaking and a full scholarship toward an advanced degree at Argosy University in north-central Phoenix.
Nine finalists and semifinalists were also honored at the luncheon. The four finalists, who are also 2019 Ambassadors for Excellence, include:
Maria Barker, preschool teacher at Red Mountain Center for Early Education, a Mesa public school
Lee Ann Howell, seventh grade science teacher at Colonel Smith Middle School, part of the Fort Huachuca Accommodation School District in Fort Huachuca
Sheri Loyd, third grade ELA and math teacher at Mountain View School in the Dysart Unified School District in Waddell
Jonathan Perrone, eighth grade STEAM teacher at Phoenix's Mountain Sky Middle School in the Washington Elementary School District
Five teachers are semifinalists for the foundation's Teacher of the Year award:
Joshua Farr, 10th-12th grade science teacher at Cienega High School in the Vail Unified School District
Amy Komitzky Henning, English and ELA teacher at Chandler School in the Chandler Unified School District
Benjamin Lebovitz, choir and drama teacher at Walden Grove High School in the Sahuarita Unified School District
Rachel Lodge, ninth grade history teacher at Flowing Wells High School in Tucson
Dr. Lettice Pelotte, English and history teacher at Metro Tech High School in the Phoenix Union High School District
Recent Arizona Teachers of the Year
2018: Josh Meibos, a kindergarten through sixth-grade physical education teacher at David Crockett Elementary School in Phoenix
2017: Michelle Doherty, a first grade teacher at Encanto School in Phoenix's Osborn Elementary School District
2016: Christine Marsh, of Scottsdale's Chaparral High School, who is currently running for office in Arizona's state legislature
2015: John-David Bowman of Westwood High School in Mesa
To be considered for the Arizona Educational Foundation's Teacher of the Year award, candidates must submit a written application that is reviewed by a panel of educators and business leaders. Ten candidates are selected to prepare a 15-minute unedited video of them teaching in the classroom. Finalists get a $5,000 cash award; semifinalists get $1,000.
RELATED: